What Lies Ahead: Night of Neglect
Wednesday, March 16, 2011
Hiatus? More Like Crapatus: Unfortunately, tonight's episode of Glee is the last new one for awhile. The next episode, titled "Night of Neglect," won't premiere until April 12. For those of you counting on your fingers, let me save you the trouble and tell you that date is 28 days away! Pissed as you may be, remember that the writers need time to, you know, write more episodes and then shoot them. Hence, the hiatus that is upon us. We might join Sandy Ryerson and his Josh Groban fan fiction club to pass the time.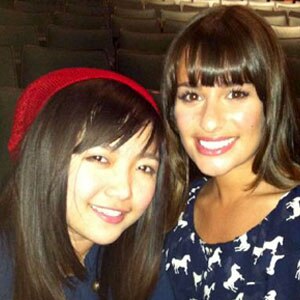 Return-o-Rama:
If you don't know who I was referring to when I dropped the name Sandy Ryerson up there, then you either (a) just recently tuned into Glee and are what I call a "Gleebie" (Glee newbie) or (b) it's been so long since you've seen Sandy you forgot who he was. No worries, he'll be back! And so will Terri ! And Sunshine! And the coach of Vocal Adrenaline, Dustin! The end of the season is slam-packed full of characters you thought writers forgot about. And they aren't just popping in for a line or two. They'll definitely be involved with main storylines.
We Heart NYC:
Remember how excited you got when you found out Glee was going to New York City for Nationals? And you played this number over and over again in anticipation? Seems like ages ago, what with all the Britney Spears tributes, Darren Criss dreaminess, and whatnot. Thankfully, we are back on track to New York City and Nationals glory. The cast starts filming in the Big Apple at the end of April!
Going Back to Gaga:
It won't be Lady Gaga-themed, but episode 18, "Born This Way," will heavily feature the message of her latest single. That episode will also be home to bully Dave Karofsky's big storyline, and it marks the first (and perhaps not last) appearance of psychiatrist Dr. Shane.
Glee at Paley Fest:
If you haven't been following Team WWK on Twitter and getting the latest TV news from Paley Fest 2011, then shame on you! The cast and creative team of Glee will be featured on Wednesday, and we are so there. Feel free to blast us with questions for the cast by tweeting at us or by leaving Q's in the comments. And just so we can get this clear right off the bat, I already know to get scoop on the future of Finn and Rachel. And I promise to get it. Anything else you guys need to know?