Glee-Dux: The Neglected Get Their Time to Shine
Wednesday, April 20, 2011
Even though Glee hasn't had new episode in 70 years a month, it doesn't feel like the show really left, does it? We've had reruns, and constant news and scoop on future episodes, plus the matter of what shall henceforth be known as "Glee Prom Spoilers Twittergate 2011."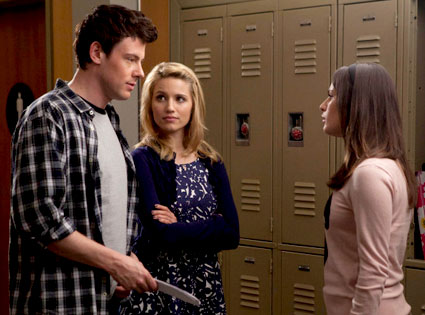 But forget all that for now, because Glee is back for realsies, which means we have to dust the rust off of our recapping ways for an all new Glee-Dux. But why are we still blabbing? Let's jump right into it. Glee is back!
McKinley Has an Academic Decathlon Team:
Turns out that school has other activities besides singing, footballing and employing substitute teachers who crawl around in leather outfits. Brittany (Heather Morris), Mike (Harry Shum Jr.), Tina (Jenna Ushkowitz), and Artie (Kevin McHale) make up the Brainiacs, and not only did they nail their latest Decathlon meet (Cat Diseases and White Rappers as categories? Next!), but they finally got the glee club to get their heads out of their behinds. Pay attention to the neglected! And they are...by selling taffy?
Holly Is Good for Other Things Besides Getting in the Way of Wemma:
The taffy idea is terrible, and poor, sweet Will (Matthew Morrison) didn't see that until his GF Holly Holiday (Gwyneth Paltrow) pointed it out. OK, so the "Night of Neglect" idea is kind of a remix of last season's "Bad Reputation," but we'll take it. Especially if it means a smokin' solo for Tina that almost lasted a whole song.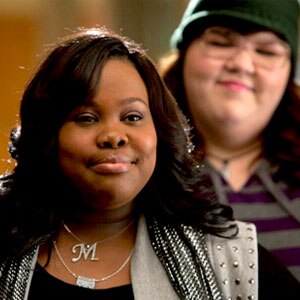 Mercedes Gets Zized:
Lauren (Ashley Fink) becoming the manager for Mercedes (Amber Riley) made the greatest pairing since peanut butter and chocolate. Even though her demands got out of control (puppies for drying hands), I agree that Mercedes should be getting more r-e-s-p-e-c-t. She is often overshadowed by Rachel, and Amber's voice should just be heard more often. Truth bomb. That Rachel and Mercedes scene in the car echoed lots of fan questions, mostly: "Why is it always Rachel with the solos?" Lea Michele is so talented and constantly front-and-center; we often forget that Amber's voice is just as powerful.
Sergeant Handsome, Indeed:
Cheyenne Jackson, you are finally being utilized for the gorgeous awesome explosion that you are. Thank you Sue (Jane Lynch), for putting together the League of Doom (Legion of Evil, if you believe Sandy), because we get more Cheyenne, a beeper reference and the best nicknames ever:
Sandy: Pink Dagger
Terri: Honey Badger
Dustin: Sergeant Handsome
Sue: General Zod
Ain't No Sunshine When She's Gone:
Charice is back! And signing the most depressing song ever. But at least she's singing it wonderfully. The only thing I remember about Sunshine other than the song was that her presence spurred a Jesse St. James reference. And we all know how I feel about that character.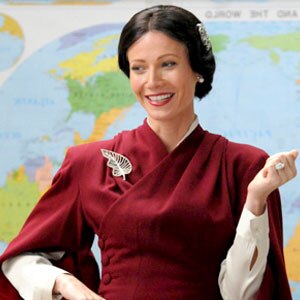 We Say Bye to Uncle Jesse:
Carl (John Stamos) has left Emma (Jayma Mays)! Wemma fans, how are you feeling? I bet you're all just squeeing and shrieking and dusting off your "Will & Emma 4-Ever" T-shirts. What's that? Not all of you are 12-year-old girls? Oh. Well, the point is that those who ship Will and Emma hard got the cutest scene involving lunchtime activities. My love muscle is severely out of shape, but even I felt a slight tug of the heartstrings when Will dusted off the grapes for Emma.
We Want Santana on Permanent Retainer:
Santana (Naya Rivera) got all up in Karofsky's (Max Adler) face when he tried to bully Blaine (Darren Criss) and Kurt (Chris Colfer), and not only is she not afraid to threaten a man, but that girl be crazy. That combination equals a badass chick that we wouldn't mind as our personal bodyguard/trash-talker. And speaking of trash-talking…
Be Afraid, Internet Bullies:
Glee has you all figured out. My favorite scene of the episode was Holly cornering the hecklers in the library and letting them have it. This was Glee's way of calling out Internet bullies who hide behind keyboards and screen names while tearing others down. We get your method of operation e-bullies, and we pity it. Of course, my Glee-Dux commenters never bully, so all we did was laugh and say "Preach!" at the TV. At least, that's what I did.
Holly Dashes Will's Substitute Dreams:
Most fans were less than pleased when they found out Gwyn would be covering Adele, but "Turning Tables" was definitely her best vocal showing. It made the breakup scene between Will and Holly even more poignant. We knew this day was coming, but we still can't believe it's finally here! Will and Emma both single? Get out of town! But when Sue told Terri (Jessalyn Gilsig) that her time has come, we got the feeling that it will have something to do with getting in Will and Emma's way…again.