Glee-Dux: "New York"
Wednesday, May 25, 2011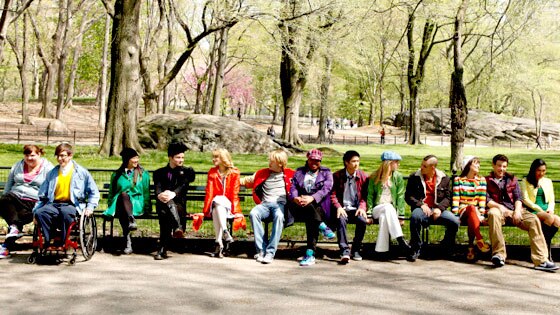 Let's hear it for New York! And, let's hear it for the Glee season-two finale!
The up and down second season of Glee came to an end tonight with "New York," and there were plenty of theatrics to behold in one hour. Which is fitting, seeing as most of the episode took place in NYC, the home of Broadway.
Couple drama, Nationals, a shocking kiss…we have lots to cover! So let's say goodbye to Glee for the summer with the final Glee-Dux of the season…
New York City Is Always a Great Character: Shooting on location in NYC always brings an amazing energy to a TV show and its cast. And Glee was no different. My screen seemed to crackle with electricity from the very beginning of the episode. I love New York City more than any other place in this country (sorry, L.A.), so the opening shots and the mashup was like scenery porn for me. Did you catch glimpses of the crowds of adoring fans gathered to watch the filming? Side note: I do not buy for one second that a Broadway superfan like Rachel (Lea Michele) would be duped into buying Cats tickets. Please.
About That Matt Morrison Solo Stage Performance: There is no possible way that scene could have been any cornier. From the lyrics to M.M.'s new single to the theater worker telling Schue that he's got "it," it was a cheesefest. Not that over-the-topness is necessarily a bad thing. It's the season finale! And they're in New York! For show choir Nationals! If they didn't have theatrics in this episode, I would have been worried.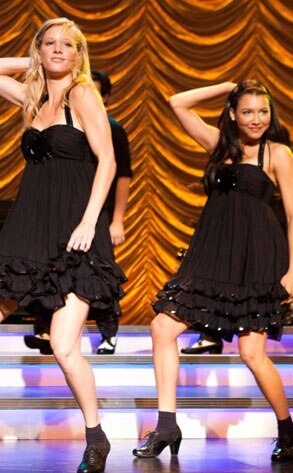 Rachel and Kurt Have to Go to New York Together: After the Breakfast at Tiffany's scene and the Wicked number, I am absolutely convinced that Kurt (Chris Colfer) and Rachel need to move to the city after high school, find a loft in Hell's Kitchen that he would stylishly decorate, and live together while chasing their Broadway dreams. First of all, Kurt and Rachel's friendship is one of my favorite things about Glee. And he represents Rachel's dreamer side, which should never be compromised because of her love of Finn...or anybody. Can she have both? And my word, those theater workers are super helpful! One even let Kurt and Rachel stay onstage and sing! If I go to New York and break into a theater, I'm certain that I'll run into a begrudgingly happy usher who won't turn me in. Right?
New Directions Falls Short: As soon as it was revealed that there were stages to getting to the National finals, I got this feeling that New Directions would be sent home early. Unfortunately, I was right. But hey, top 12 out of 50 ain't bad. And they only missed moving on by two slots! Like the banner said at the end of the episode: Good on ya!
Quinn Loses It, Then Finds It With a Haircut: Dianna Agron is too gorgeous for words, so I hate seeing Quinn stuck in this "must be popular" mantra. Of course, we all act a little nuts when we get dumped, so I can't blame the girl for being a little crazy as of late. Maybe with the adorable new haircut, she can find love again with someone else who has cool hair. Perhaps a mohawk?
Favorite-Couple Fans Are Left Hanging: You say things were left "open-ended." I say: "cliffhanger." Not that a cliffhanger usually means bad stuff ahead. Brittany (Heather Morris) and Santana (Naya Rivera) obviously took a step forward with Brittany telling her that anything was possible. But all we got was a hug, so I bet we'll be seeing more of those two next season. And Will chose to give up Broadway for the time being to stay with his kids, and we got a quick shot of Will with his arm around Emma (Jayma Mays). They just looked too cozy to just be friends. Oh, and Kurt and Blaine's (Darren Criss) "I love you" exchange was super cute, but did anyone else think Kurt's response was…off? It might just be me. I'm very tired. After all, Kurt did say that this year was a good one for him. Maybe he wasn't ready to tell Blaine he loved him, but he didn't want to hurt his feelings. These are the musings of a recapper who is going slightly crazy from all the finales packed into one night.
PacificCoastNews.com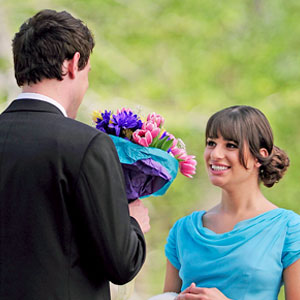 Finn and Rachel Finally Stop Pretending: It was back and forth all episode with these two, and it was driving me bonkers! I absolutely loved that Rachel admitting that her true love was the stage, and that she was willing to leave behind Finn (Cory Monteith) to pursue her dreams. But in the meantime, she can have her man, which is exactly what happened in the end. It took a lot of begging on Finn's part (and a very public kiss during their Nationals performance), but Rachel finally stopped fighting and welcomed back Finn into her heart. As for that vague, confusing, cryptic Finchel moment I've been talking about for weeks now, it was the gathering of Finn's boys that pushed him to stop bitchin' and go after her! Which he did, with the dreamiest date ever. Now do you see what I meant when I said that Rachel didn't need to be around for Finn to realize his true feelings? He just needed his bros.
Jonathan Groff Had Some Lines: Sure, it was only a couple. But he was awesome nonetheless. And Jesse chasing down Rachel led to another proclamation of Finn's love for her, which fans always love. And hey, his storyline is still open, so Ryan Murphy could always bring him back!
New Couple Alert:
Almost forgot. Just kidding, I didn't forget. I just wanted to save this for the end. Sam (Chord Overstreet) and Mercedes (Amber RIley)! Holding hands, being cute and…hiding it from people? Why hide a cute new couple like that? I guess we'll find out next season. Until then, what do you think of Sam and Mercedes together?