Heather Morris - Women's Health Magazine
Thursday, May 19, 2011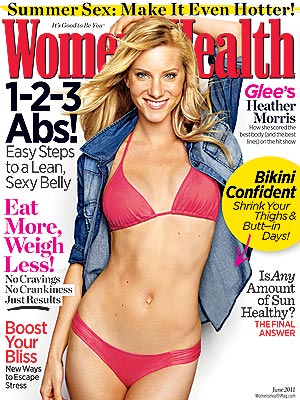 Heather Morris is doing what she does best.
The Glee actress, 24, is showing off her rockin' body in a tiny, red two-piece on the June cover of Women's Health magazine.
"Do whatever you like to do, eat how you want to eat, but just make sure you stay [active]," she explains of how she keeps in shape. "I take a lot of exercise cardio classes. I do a ton of squats."
She also gets in a good workout on Fox's hit song-and-dance show playing Brittany Pierce.
"I'm exactly like Brittany," Morris says of her fun-loving character. "I love to dance, I like to have fun. I want to make everybody laugh."
But a particular aspect of her small-screen life doesn't appeal to her non-famous beau Taylor Hubbell.
"He just doesn't like watching me kiss other people," she says. "It doesn't matter if it's Artie [Kevin McHale] or Santana [Naya Rivera]."