What Lies Ahead: 'New York' and The Mash up to End All Mash ups
Thursday, May 19, 2011
One More Episode: This is it, Gleeks. The season finale of Glee is next week, and wow, are they going out with some fireworks. From musical numbers to couple drama, "New York" will have it all. Shippers, prepare for some stuff about these couples to come at your face next week: Will and Emma, Finn and Quinn, Brittany and Santana, and Finn and Rachel. I will not say more than that right now. Just know that the finale is a doozy.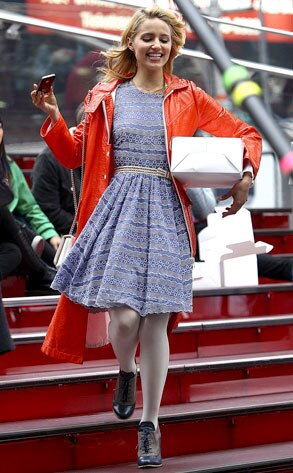 The Mashup to End All Mashups: The "I Love New York/New York, New York" number that is performed in the season finale will probably become one of your favorite performances of all Glee time. And if you live in New York or just love NYC, it will be especially outstanding. Ryan Murphy definitely made use of his supersized budged for this episode.
An All-Girl Glee Club: Don't forget about the other glee clubs performing at Nationals. I hear that one of them is an all-girls school. And they will rock your brain. Will they rock harder than New Directions? That's up to the fictional judges, unfortunately.
Get Ready to Hang on That Cliff: Yes, in true finale fashion, the episode will ends in cliffhangers. That's plural, folks. As in more than one. And one of the cliffhangers will have to do with a couple. Does someone actually hang off a cliff? I don't think so, but that would be awesome.