Harper's Bazaar: Lea Michele In Bloom - The Interview
Wednesday, August 03, 2011
The Glee star is just as overachieving in real life as her character - and she's got no plans to stop. Check out the interview and exclusive video below.


When Lea Michele shows up at Le Pain Quotidien, near her apartment in New York's West Village — she's addicted to her PQ, as she calls it — she is wearing a pair of standard-issue Hollywood-star sunglasses, and she slips into a quiet corner table, looking around to be sure she hasn't been recognized.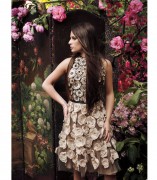 She seems conscious that 1) she's famous and 2) she's gotten the occasional bad rap for some supposed prima-donna-like behavior. Even when she asks for a warmer cup of coffee, she's careful to appear overly apologetic. "I'm so sorry. Is that okay? Thank you so much," she gushes. It's hard to disguise the fact, however, that ever since she auditioned for Les Misérables at the age of eight or first saw Funny Girl at 10 and recognized herself in Fanny Brice, Lea has worn her ambition on her sleeve.
After she graduates from Glee at the end of this season — as her character, Rachel Berry, finishes senior year — she's got no plans to take a break. "I don't stop," Lea says. "It's my nature. People have to tell me to slow down. I plan on playing every role on Broadway. I want to do Evita. I want to do Sweeney Todd with [Glee costar] Chris Colfer. We want to do Wicked. I'll be Elphaba and he wants to play 'Guy-linda.' I want to do movies, make music. Glee is only the beginning."
Unlike many of her peers, who ascended via the Disney Channel or YouTube, Lea, 25, the only child of a former nurse and a deli owner in real estate, the old-fashioned way: First she conquered the Great White Way, then she landed the TV show, and now she'll be on the big screen in Glee Live! 3D!
After that preteen stint in Les Miz, this is how Lea's A Star Is Born story goes: At 19, with a role in the rock musical Spring Awakening, she and her costars became the toast of New York. ("I didn't get a [Tony] nomination like the boys did, which was a big learning experience for me," she says, still disappointed.) Glee creator Ryan Murphy, whom she now calls Mama Murphy and consults on her red-carpet looks, came to check it out and asked her to meet about Glee. On the way to her audition in Los Angeles, she had a car accident that even she refers to, unironically, as "famous." "I was literally pulling glass out of my hair in the bathroom before I went in." She nailed it.
And swept up in the Fox phenomenon, she, unlike the rest of the Spring Awakening cast, has become a fixture on top of iTunes charts and a Barbra-Streisand-in-waiting (she hopes), and she dresses up in designers like Oscar de la Renta. "I'm five foot three. I don't look like a lot of other people, you know what I mean? I look like I'm 12," says Lea, who's wearing a cream top she found at Anthropologie the day before and matching shorts. (Those sunglasses are from Urban Outfitters. "I'm not a big spender.") She gets called out for her unconventional features all the time, but Lea doesn't let it bother her; if anything, she's used to it. "How many manag- ers told me, 'Get a nose job. You're not pretty enough'? But I proved them wrong." There's Fanny Brice for you.
Now she admires the popular girls in Hollywood: Penélope Cruz (who Lea thought wouldn't recognize her but who countered, "Do you think I don't have a TV?"), Blake Lively, Jennifer Aniston (especially for posing as Streisand in Bazaar: "It was awesome; I really wanted to do that"), and her sometime costar Gwyneth Paltrow, who "never gets it wrong." "I am obsessed with Gwyneth Paltrow," Lea says. The day they met, they were rehearsing a Chicago routine for Glee. "I was nervous and said, 'I don't think I can do that dance move.' She said, 'You can do it.' She wasn't afraid of anything. I love talking with Gwyneth. She just gives good advice. She said, 'Don't ever read anything about you.'" Instead, Lea turns on the TV. "I watch Bravo like it's unhealthy," she says.
Teresa from The Real Housewives of New Jersey reminds her of her family. "I'm Italian," she says. But she and her boyfriend, Theo Stockman, who she met while he was in the chorus of Hair, lead a quiet existence in West Hollywood. "I have a small life," she says. Besides hanging out with her Glee castmates — "I just want to be around them all day" — on a typical night, she and Stockman "cook dinner, have wine" or a Skinny Girl margarita. "Love it," Lea says. "Bethenny Frankel is smarter than all of us."
As Lea's star rises, Stockman ended a run in Broadway's American Idiot earlier this year. "What I do is what I do, and what he does is what he does, and when I come home, we have each other," she says. "He doesn't get caught up in it." It's lucky that Stockman doesn't get jealous: Lea recently had to kiss Ashton Kutcher in the upcoming romantic comedy New Year's Eve. "It wasn't enough," she says. A practical joke he played involved him opening the door naked save for a towel. If he'd dropped it, "I might have blacked out." It would give the tabloids something to write about other than saying she's too skinny, which she chalks up to her vegetarianism and "the Glee diet": "My schedule is insane, but I can out-eat you." (This over oatmeal.)
They also like to say she's a diva like her character, although lately costars Amber Riley and Colfer have been bearing that brunt too. "People have to remember this is all new for us," Lea says. "We're all reasonably young, except for Cory [Monteith], who's old." (He's 29.) "I've learned some lessons," she continues. "But people are going to say what they want to say. I know who I am, and I'm not perfect." But Lea knows one of the ways to stay in the game is having a sense of humor. The Glee movie hits theaters in August. "In 3-D," she says, laughing, "my nose is going to look fabulous."