Is Darren Criss Trying to Steal Daniel Radcliffe's Limelight?
Wednesday, August 03, 2011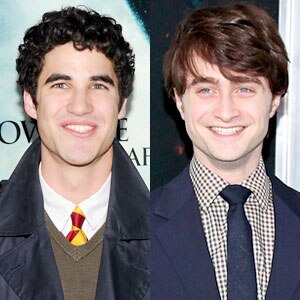 Before Darren Criss made a splash as Chris Colfer's BF Blaine on Glee, he was Harry Potter. Well, sort of.
Criss gained a cult-following for his musical parodies of the Harry Potter series, A Very Potter Musical and A Very Potter Sequel, in which he played the boy wizard himself (the role made famous on the big screen by Daniel Radcliffe, of course). Now Criss is stepping into Danny's dance shoes once again to make his debut on Broadway.
So is this a total coincidence or is Darren trying to ride the Radcliffe express to fame?
Looks like the latter. Tho, he won't admit it, of course.
Let's first back up—who wouldn't want to have a career like Daniel Radcliffe's? Dan's loaded (H.P. made mega box-office bucks, duh), a triple threat and best of all, he's Harry freaking Potter. Heck, he could probably retire now and live a pretty cushy life.
Well, the Glee star is clearly (and craftily) taking notes.
Darren first made it big with his wizard-scoffing YouTube sensation, which is basically what landed him in McKinley high in the first place. Which is a totally cool rags-to-riches story and all, but cut to January of next year when Criss will take to the stage for a three-week run in How to Succeed in Business Without Really Trying. You say coincidence, but trust, coincidences like this don't happen in Hollyweird.
But, whatever, everybody has role models, right?
When asked if Darren is actually aspiring to be like Dan, Darren's camp declined comment, but that's not unexpected. At all.
There is one good thing that comes out of all this: Dan is a straight dude who's done tons of work for the LGBT community (like singing with drag queens and delivering hearty speeches and whatnot) and D.C. is doing the same—he's a straight guy who plays gay on TV and isn't afraid to stand up for his alter ego's peeps.
And we heart anyone who's willing to speak out.
Oh and in case you're worrying about how his role as a singin' BF on Glee will be affected by his New York gig, fear not! Darren won't miss a beat of the hit Fox show. His brief stint on B'way will coincide with the show's winter hiatus.
"We are ecstatic and grateful to Ryan Murphy and his Glee team at 20th Century Fox TV for helping to make both Darren's and our dream come true," the show's director gushed.
Well at least someone got a break from their day job on the Fox hit. Wonder if Lea Michele and the rest of her crew can say the same, seeing as they're now apparently staying on the show.
In the meantime, guess we'll go check out Daniel Radcliffe's IMDb page to see what Darren Criss will be up to next...