Naya Rivera Talks "Brittana" Romance and Who Else Is Graduating
Saturday, August 06, 2011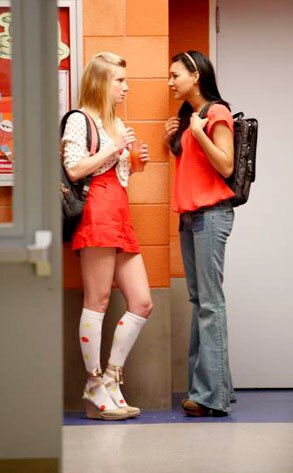 Pst! Pst! We're not sure if you've heard (do you live under a rock? If so, how's the wi-fi?), but some New Directions members will be graduating at the end of Glee's third season. At this point, the executive producers have only confirmed that Finn (Cory Monteith), Rachel (Lea Michele) and Kurt (Chris Colfer) will be graduating from McKinley High (not the show) this upcoming season.
However, at FOX's TCA party on Friday night, we found out the identity of one more Glee senior. So who is joining Cory, Lea and Chris for Glee: The College Years?
"I'm a senior. I guess that means I'm graduating. That's what happens when you're a senior! I don't think it's a thing," Naya Rivera a.k.a. Santana Lopez told us at last night's TCA party in Malibu. "It's like, what is it when you're in high school? You're a senior, you graduate. Yes, I'm graduating this year."
Yes, it's true. Santana will be vacating the role of McKinley's HBIC. (All divas feel free to apply, just make sure to bring extra sass and biting one-liners to the audition or don't even bother.)
How does it feel to be graduating from glee club? Rivera says, "It will always be bittersweet because this is like our baby and we've been with it since the beginning and it's always sad. It's literally like the feeling of being in high school. It's bittersweet, but it happens. That's what you do. I've had a great run and hopefully it continues."
If it does continue, Rivera told us what she hopes to see from Santana post-high school.
"
Hopefully she gets into some type of college, but I think she's going to be a hot mess in college,
" Rivera says. A hot mess?
Ke$ha
would be so proud. No matter what happens,
Rivera hopes Santana will be "causing more trouble" wherever she goes.
Before she stops terrorizing the halls of McKinley forever, Santana has one major obstacle in her way: Her relationship with Brittany (Heather Morris). Though Season 3 begins production on Monday, we asked Rivera for some much-needed Brittana (or is it Santittany?) scoop.
"Either way I think it will be good. If they get together, awesome. I know there's a bunch of fans that want that to happen," Rivera says of the couple's Season 3 journey. "But if they don't, then they don't and I think that's another thing that you can explore."
So basically, Rivera knows about as much as the rest of us: Nada. And if she does, she ain't spillin'.
Though she doesn't know much about Season 3, Rivera does has a breakout Season 2 to look back on.
"I feel good. I feel great. It's one of those things where as an actor where you go into a season and feel like you have to prove yourself and I felt like I had a lot to prove, especially given the status that season of being a regular," Rivera says of her standout performance last year. "I really wanted to prove that they didn't waste their money and their time and their energies. I wanted to do a a good job!"
Finally, we asked Rivera what artist's tunes she would like to cover this season. After covering the late
Amy Winehouse
's hit "Valerie" last season, Rivera says, "I would love to do some more Amy, but I know that's weird."
"I'd love to do some Adele or some Billie Holiday, more of the jazzy artists," she continues. "Maybe some Stevie Wonder."
How do you feel about Santana graduating?