The bully will be back! Max Adler spills on Karofsky's "shocking" return to Glee
Monday, September 19, 2011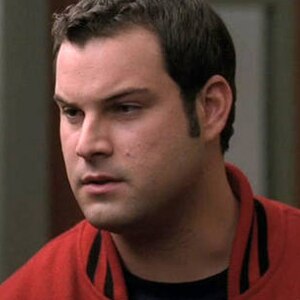 When we screened the first season-three episode of Glee (and then spilled the beans about it), a lot of fans started a war cry regarding the lack of
Max Adler
's bully character, Dave Karoskfy. Well, we just hate to see you guys hurt, so we tracked him down at the Fox Emmy party to ask him when, or if, he'll back on Glee this season.
And guess what he told us?
And apparently it's going to be a return that will knock our McKinley High letterman jacket's off. "I can't tell you exactly when I come back, but it's going to be a shocking moment," Adler reveals to us. "It's not in the first episode. But I'll be back. And I will say it's unexpected. It's definitely a shocking scene. It shows what happened to Karofsky and what will happen to him."
Already speculating? Don't bother. "It's definitely nothing that anybody is going to guess," he promises.
And when he does come back, Adler has big plans for his bully character. "I would love for him to accept himself, because I really think that's the message of Glee," he says. "And I feel like if Karofsky can come around to where he was accepting himself and being OK with who he is for his family and his peers and his classmates, it's just an amazing message to send out there. I would love a nice little happy ending for him. I think that'd be really meaningful."
So Adler told us we wouldn't be able to guess how his character returns? Challenge accepted! Try and figure it out in the comments below.