Glee-Dux: Back to Basics! What Happened in the Season Premiere
Tuesday, September 20, 2011
Glee fans, you really can't stop the beat.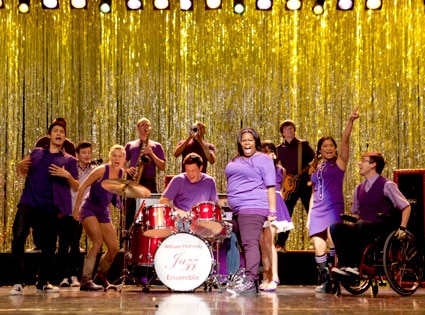 What a perfect musical number to end the season-three premiere with, right? I took it as Glee's way of saying that no matter what's happening outside the show, they'll keep doing what they do best. And after a perfect season-starter of an episode, the Glee train is officially moving and we're all hopping on board! I might even be making train noises right now, but I won't confirm or deny.
Welcome back, Glee! And welcome back to you guys, because a new season of Glee means a new season of
Glee recaps
. I'm about to cover everything that went down, plus drop some clues on what's ahead, in the first Glee-Dux of season three. Did your body just tingle? Mine did. Let's get going…
WHAT WE LEARNED
Who's a Senior and Who's a Junior: You get a graduation gown! And you get a graduation gown! And you get a…hold on, Tina and Artie. You guys do not get graduation gowns, because you're juniors. Every original glee club member will be graduating this year, unless I miscounted. Some of the members' fate was a little unclear (Brittany, Blaine), so what do you guys think? Speaking of
Darren Criss
…
New Directions Gets a New New Direction-er:
Welcome to McKinley High, Blaine Anderson! And don't you look nice not in a Dalton Academy cardigan? I'm glad he didn't put up too much of a fight when his boyfriend Kurt (
Chris Colfer
) begged him to transfer, but I also enjoy the fact that Finn (
Cory Monteith
) seems to have an issue with Blaine's "flashy" singing style. I mean, homebody did light a piano on fire, so he's got a point. Still, thanks for transferring Blaine! We love your tight red pants. Oh, and Kurt is running for class president. Hurry up and design those campaign buttons.
Will and Emma Are Official Residents of Couple Kingdom:
No more will they/won't they for these two. Will (
Matthew Morrison
) and Emma (
Jayma Mays
) are gloriously living in sin and being crazy adorable while they're doing it! Not that they're doing it. As we found out in the episode, Will wants to have beautiful curly-haired ginger babies with her. Squee! But that thing they have to do to make babies? Yeah, they're not doing it. Which is weird because my mom told me that babies come from closing your eyes and wishing really hard. That's how I plan to have Chris Pine's baby. Anyway, how excited are you guys that Will and Emma are an honest-to-Groff couple?
Quinn Got a Makeover? More Like Makeunder:
Or some other play on the word makeover that makes sense. The point is, Quinn (
Dianna Agron
) is the complete opposite of the prim and proper Cheerios captain we met in season one. However, the fact that she was creeping around the auditorium during "You Can't Stop the Beat" made me think she won't be gone for long. Especially since Shelby (Idina Menzel) is returning soon with her daughter. Also in trouble? Santana. Girl straight-up got kicked out of the New Directions!
Kurt and Rachel Set Sights on NYC:
I know Finchel is endgame for so many of you Glee fans out there, but I thought Kurt and Rachel (
Lea Michele
) were one of the best parts of the episode. I love that their dreams about New York are going to be a focal point this season. Plus, it gave us amazing numbers by them and by the other show choir, starring Lindsay from The Glee Project. How awesome was her performance? I'm sure Ryan Murphy and Co. will come up with great storylines revolving around Kurt and Rachel, and I can't wait to see them.
Rewind Moment:
The entire "You Can't Stop the Beat" number. Perfect ending to a perfect season premiere.