Glee-Dux: Brittany and Kurt Are Unicorns—Hear Them Roar!
Wednesday, September 28, 2011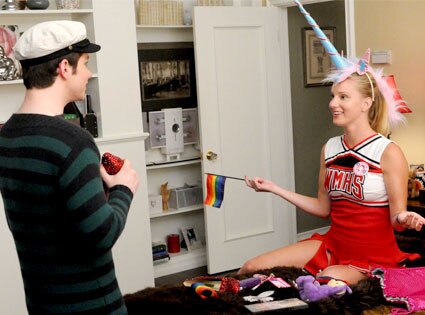 Remember that storyline from season one about Puck and Quinn having a kid? And how you guys have been begging the writers of Glee to at least acknowledge that those two made a baby?
Well then tonight's episode is the one for you, friends. Of course, a lot of other stuff happened on Glee. Like, we all learned about unicorns, and how awesome Brittany and Kurt are together in any capacity. Plus, we have scoop on a certain someone about his return to the show. Let's get this week's Glee-Dux going, shall we?
WHAT WE LEARNED
Brittany Is the Best Campaign Manager Ever: Brittany (Heather Morris) taking over Kurt's (Chris Colfer) class president campaign was one of the most magical things Glee has ever delivered. Because a Brittany-Kurt pairing is always comedy gold, and it led to a sweet little scene between Brit and Santana (Naya Rivera). Which, in turn, led to Brittany proclaiming she was running for class president against Kurt. She's a unicorn too, damn it! Who else cannot wait another minute for their debate? Also, we're stealing Brittany's poster tagline "ride the rainbow" as our new bumper sticker. More importantly, who would you vote for?
Quinn Wants Beth Back:
This was quite an episode for Quinn (Dianna Agron), who still managed to look smokin' hot wearing a beanie and Taylor Momsen-esque eyeliner. She went from skank to the ole Quinn in 42 minutes after getting a stern talking-to from both Mr. Schuester (Matthew Morrison) and Shelby (Idina Menzel). First Schue told her to grow up, and then Shelby warned Quinn that she could not be in Beth's life acting the way she is. Puck (Mark Salling) goes to see his daughter, and we learned that there is nothing hotter than Salling with a baby. There was even a spark of Quick love at the end when she rejoins the glee club, until it was squashed by Quinn claiming she wants full custody of Beth. Somethings tells us that storyline is going to be a bumpy one. Besides bringing Beth back, Shelby is also starting her own glee club at McKinley, which will undoubtedly be a rival gang for New Directions. Um, except for the fact that it seems their only member is Sugar Motta.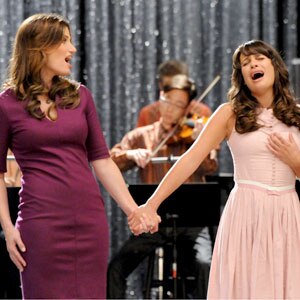 West Side Drama:
How beautiful did Rachel (Lea Michele) look in her pretty pink dress while singing "Somewhere" with her mom? I was not a fan of the arrangement, but those two obviously rocked that song anyway. The real drama came from Kurt and Blaine's audition. Even though Mr. Hummel killed his rendition of "I Am the Greatest Star," Kurt struggles with playing the believable macho male lead of Tony, the part he desperately wants. And after overhearing the directors (Emma, Artie and Coach Beiste) confirm his fears, he turns to his dad for help. Good ol' Burt (Mike O'Malley) knocks some sense into him, telling his son to write his own play, change the rules, and write his own history. Best advice ever, and all seemed to be well until Blaine (Darren Criss) audition with a brilliant performance of "Something's Coming." He was trying out for Bernardo (or Officer Krupke) to give his man Kurt the lead spotlight, but the directors asked him to read for Tony. Kurt looked crush, and Blaine looked intrigued. Cut to black. Cliffhanger! Oh, and by the way, Blaine's a junior.