Glee Stars Agree: New Season Less Burn Out, "Back to the Basics"
Thursday, September 22, 2011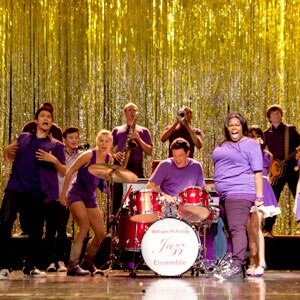 So Glee's premiere wasn't as big in the ratings department as Gleeks may have expected, but no matter. At least the working environment on the show has improved.
Ryan Murphy
said it himself last when he revealed last week that he's trying to limit his cast's workload to three or four days a week to prevent "burn out."
And we're happy to report...
The stars of the show seem to be enjoying a newly improved McKinley.
"Honestly, [Murphy] has really spread [filming] out so people do have like one or two days off, which never happened last year,"

Harry Shum Jr.

tells me. "It's been great on set."
Not that there aren't some long days. "What's really been different in the new episodes is the storylines are really investing in these characters," Shum says. "We're not just sitting in the choir room and delivering lines. There's a lot of character work and it makes the days go faster. Even if you do have a 12-hour day, it's fine because it feels like it's going faster."
Jenna Ushkowitz

seconds that. "It's back to basics," she said. "We definitely feel that. It's definitely about the characters. I mean, there are bell and whistles but it's a lot more about how the characters are feeling emotionally and their journey."
Ushkowitz said a break between touring this summer and starting work on the new season also helped. "We had four weeks off," she says. "Spending that much time together through season two through the tour, it gets hard. But now, you get a minute to be yourself and come back and be like, Oh, my God—my best friends!"
And Shum is really excited to report that he Mike Chang will be singing this season. "Really sing!" he says. "You get to hear him solo sing. And it's a real song...It was so much fun, but we'll let the people judge how well Mike Chang does."