Who Should Play Brittany's Mom?
Friday, September 09, 2011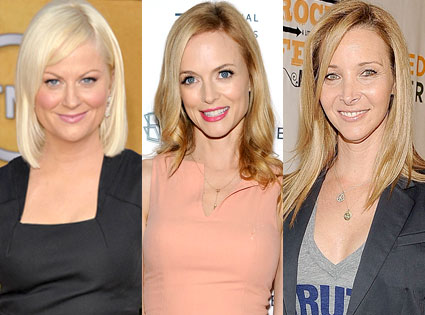 "Wouldn't you want to know who had that kid?"
Kevin McHale
asks us. Does Brittany think the chalkboard is talking smack about her? The answer to both these questions is: probably.
We already know that we'll eventually be meeting Brit's mama, we just don't know who will be playing the part. And to understand dumb but sweet Brittany (
Heather Morris
), it's crucial to know who she came from. Also crucial? Casting that sure-to-be hilarious role.
When we chatted with McHale, he had an awesome idea of his own for Brittany's mom, and we're throwing in ours as well. But we also need your help in choosing from the pack of possibilities, and maybe you have your own dream actresses to fill that part? Plus, McHale weighs in on the Brittany and Santana (
Naya Rivera
) situation, and speaks with us about his important involvement with
The Trevor Project
…
We'll get to our picks for Brittany's mom later, but let's hear from McHale first. This kid continues to be on our awesome list, because he chose one of our favorite women on TV right now. "
Amy Poehler
! That'd be fun. Another hilarious blonde," he tells us. "[Or] someone with great abs who may not be the smartest person. I just want it to be a Pulitzer Prize-winning author or something."
As for that whole Brittana debacle that is driving shippers absolutely bonkers, McHale, as per usual, insists he doesn't know what's coming up for them. However, he did offer this: "They get to do some cool songs," he says. "We keep saying back to basics, but it really is because it is about the core members of the glee club and the teachers. So it's been less about the certain types of guest stars we have on and themed episodes."
We love that Glee is pumping the brakes on guest stars, but we're having way too much fun casting this part. Brittany's mom would be great character to see. We've rounded up our top picks for Mrs. Pierce:
Do you like Artie's pick? Or maybe one of our top picks? There is only one way to settle all this: an Internet poll. We've also thrown in other actresses we think could rock that role. And of course, we left a spot open on the poll for you to throw in your recommendations. We're all about equal opportunity dream-casting here at WWK.
Check out our full interview with Kevin below where he talks about how he got involved with the Trevor Project and what's coming up on Glee.
As if you don't love McHale enough for being handsome and talented, he's part of
a new campaign
with the Trevor Project. It's National Suicide Prevention week, and if Glee teaches us anything, it's that you are not alone. "If you feel left out, outcast, bullied, anything...call a friend," McHale says. "Call a friend's parent. Call Trevor Project. You can go online. You can even IM them on
TrevorProject.org
. There are so many ways and so many people who actually care. Pick up the phone, because people want to talk to you. People really do want to talk to you."