Yes! Gwyneth Paltrow Making Musical Movie With Ryan Murphy!
Wednesday, September 21, 2011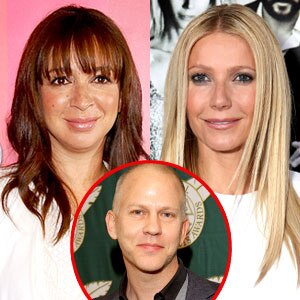 Ryan Murphy
and
Gwyneth Paltrow
are reuniting.
Sure, we'd love to see her reprise her Emmy-winning role on Glee, but...
Murphy has even bigger plans for them. He wants to make another movie together. It's been five years since he directed Paltrow in the big screen adaptation of Augusten Burroughs' bestselling memoir, Running With Scissors.
"We want to do a musical together," Murphy told me at the Emmys. "An original—I want to write an original movie for Gwyneth and Maya Rudolph, both of whom I'm great friends with."
He smiled, "That's all I will say." Hey, that's enough to get us excited.
Perhaps Murphy will include a boozy scene or two for Paltrow. "I loved Country Strong," he said. "I love it when she's drunk and on the floor spitting up pills."
But before a Paltrow pic, Murphy will shoot
The Normal Heart
, a movie coproduced by
Brad Pitt
about the beginning of the AIDS epidemic, based on Larry Kramer's semi-autobiographical play of the same name. Cameras are set to roll in June in New York City and at gay summer vacation destination Fire Island.
"I'll put you in there," Murphy said to me. "Get ready to take your shirt off!" Time to hit the gym.