Matthew Morrison Q&A: 'The election will get really heated'
Thursday, October 13, 2011
We know. We're hurting too. How can we survive until November with no new episodes of Glee? Well, the lovely chaps at Sky have a way to ease your pain - they're going to broadcast
Matthew Morrison
's recent London concert tonight (Thursday) to fill the Glee gap!
To celebrate the rather excellent news, we gave Matthew a ring to chat about Glee and the gig.
Read on to find out what he had to say about not being a fan of Glee's second season, Will getting badass, the Emma situation, what's going on with Sue, his "feud" with
Jonah Hill
and much more...
Lots of people are really enjoying this season of Glee - how are you feeling about it?
"I love it. I mean, I wasn't the hugest fan of season two, but I feel like this season has picked up right where season one left off. I think this has got the energy and the spark and the creativity of the first season and I'm so excited about it."
What was it about season two that you weren't really a fan of?
"I just feel like sometimes the storylines got a little all over the place. We did a lot of those episodes where it was dedicated to one person or a theme episode and I think the show works better when you just talk about the kids or the storylines or the people involved - not try to get too crazy with anything, just stick to the story."
Will's a bit more badass this season...
"Yeah! I think that's probably another reason why I'm enjoying the season so much. He is. He finally grew a pair! And he's standing up for himself and for the kids and he might actually win a couple of battles against Sue this season."
Oh really? Has he got a plan to stop Sue?
"Oh yeah. She wants to cut the arts so he has to stop her!"
Can you tease anything about what he's got up his sleeve?
"He might be trying to get someone else to run for Congressperson against Sue. Someone you know!"
With a lot of the kids graduating at the end of this season, what do you think Will's role is this time round?
"I think a lot of Glee has been, you know, 'I wanna be a star!' and a lot of that kind of stuff out of the kids. I think just instilling in them that the arts are important and you don't have to be a star to have it resonate with you. And to have this experience that we're all having in this glee club be a part of your life forever, you don't need to become a huge star. It's all about the people you're with and just creating music."
Of course there's a rival glee club now - is there any rivalry between Will and Shelby or are they OK with each other?
"They're OK with each other. They're kind of forming a little alliance. But I mean, I don't know how long that's going to last. I think at some point it's going to come to a head."
Will and Emma are in a good place too - matching lunchboxes and everything! Do you think that can last?
"Yeah, I think so. I mean, I think they're going to go through some stuff, but I loved how they started this season off where I just rolled over in bed and there she was and we're living together now. I think it's such a great relationship. I think people have been kind of waiting for it to happen, and I hope we don't disappoint."
Have you been surprised by how invested people are in Will and Emma?
"I think every great show has that kind of romance that people just kind of yearn for. I think the younger generation probably has the same thing in Finn and Rachel. So this is kind of the grown up version of that."
What else can you tease about what's coming up?
"I think the only thing I can really tease is I'm directing an episode. I'm looking forward to that - I'm kind of gearing up for it right now. And there's so much... I don't think I can [give anything away]! I don't want to get in trouble at work!"
You mentioned Sue earlier - does it ever bother you that she's always making fun of Will's hair considering it's really yours?
"No, because I'm so into the character it's his problem, not mine. They only make fun of it because they like it so much!"
They're probably jealous.
"That's what I have to believe!"
You get interviewed all the time now - what's the one question that drives you mad, that you never want to hear again?
"The hair question. No, just kidding! I guess honestly it probably is the teaser question, because I wish I could say everything I want to say but they're really strict about it after everything that's gone down with this show."
Is it hard being on a show where fans know everything that's going on and follow every little detail? Does it add extra pressure?
"No, because I guess I'd rather have that than anything else, than people not watching at all. So I'm glad they're really into it - it just means they're super excited about it."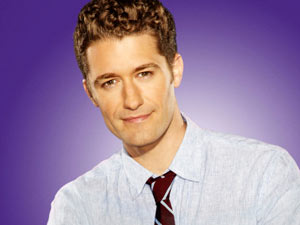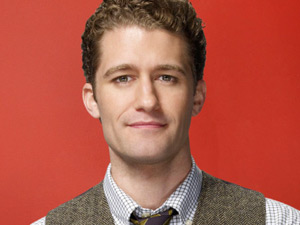 We're getting to see your concert at the Hammersmith Apollo tonight - what did you enjoy most about the show?
"I've just been sitting in the editing bay watching them put this thing together. The best part of that night at the Hammersmith Apollo was the audience. Their energy was so palpable and so in my face. It just made me... I felt like I was floating the whole night. It was just an incredible night that I will never ever forget and it was my first huge concert, so it definitely will be with me forever. And I'm so happy that they recorded it so I can relive it and show my kids one day."
Is it weird watching it back, though? Do you notice every little detail?
"Yeah, I notice things like, 'Oh, I could do that better' and stuff, plus it was the first time. By the end of my real tour I worked out all the kinks and stuff. But there's also something that's just so special about that first time and the things I did that I will never do again, but they were in the moment and I loved it. I actually loved watching it back. I was proud of myself."
Do you have more plans for your music - another album, maybe?
"Last year was really hard because I was trying to do this album and shoot Glee at the same time and I kind of learned my lesson from that. So I'm just going to focus on one thing at a time and not dig such a hole for myself. I definitely want to do music in the future - I love it, it's a passion of mine - but I think I just need to pace myself a little bit more."
You worked with so many amazing people - do you have any favourites, or anyone you'd still like to collaborate with?
"I can't say that! Well, I really enjoyed my time with Elton John. He's got a show in Las Vegas now so I'm hoping to get out there and maybe sing with him a couple of nights."
You said you're taking a break from music, but if you did ever have to pick, would you choose Glee or your music?
"Ooh. I'd probably do Glee, just because it's kind of the best of both worlds. I get to sing and act on the show. I still get to do music."
"I don't know, I was just responding to what was given to me so the ball's in his court now and we'll see what he comes up with or what he does! I don't know - I have no idea what's going to happen next."
Did you have fun filming it?
"Yeah, I had a good time. It's all in fun, hopefully. I mean, I hope he's not totally serious... But if he is, we'll deal with it!"
So we're not getting any more Glee until November - give us something to keep us going. Why should we be excited?
"Will and Sue have some really interesting stuff. There's this whole election going on which is going to get really heated, and the outcome is going to be pretty incredible, with who wins and how they win. And like always I kind of just love the Burt and Kurt storyline. I think that just really hits home and hits the heart."