Speculation Time! What Will Happen When Chord Overstreet Returns?
Thursday, October 20, 2011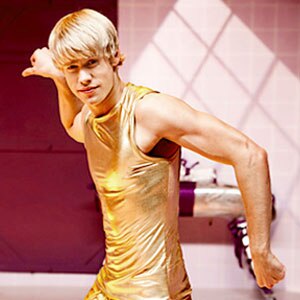 What's more fun than learning that
Chord Overstreet
is coming back as Sam Evans on Glee? Speculating about his return, of course!
The way we see it, there are at least five possible storylines that could unravel when Sam whips his beautiful, Bieber-esque blonde locks through the doors of McKinley High. And a well-placed Glee insider tells us, Sam will be coming back for Sectionals, but beyond that, the storyline is just now in the beginning stages of being carved out. So what should happen? Here's our chance to break it down, and your chance to weigh in...
Love triangle with Mercedes and Marcus: In the season two finale, we got a sweet little moment between Mercedes (Amber Riley) and Sam that revealed they were indeed a couple. And then in the season three premiere, Mercedes confirmed that they dated over the summer...until Sam moved away. And thus, Samcedes was dead before they even really began. Will Sam's return revive the flames of love between the two? We doubt that Mercedes' new boyfriend Marcus would let his woman go easily. Smells like a love triangle to us!
New Leading Man Status: In case you haven't heard, Finn (Cory Monteith) will be graduating, so New Directions will need a new leading man. Sure, everyone is banking on Darren Criss as the big star next year, but we could also see Sam taking over as top dog of the school. If he is in fact a junior, that is.
Relationship with Quinn: Who could possibly forget the adorable Ken and Barbie explosion that was Sam and Quinn? They would've made such pretty babies! And hey, Quinn is single now. Yes, she's quite crazy and trying to steal back her baby, but maybe Sam could bring her back to sane-ville. Those two had lots of chemistry, and by the time Sam gets back, Quinn might be a little more willing to just be in a normal relationship.
Coming Out: It was heavily rumored that Sam was supposed to be Kurt's original first boyfriend. Can you imagine a TV world in which Kurt and Blaine aren't together? The horror! But perhaps Sam coming back leads to his coming out. There was always something about him...
New Abercrombie & Fitch Employee: Lima, Ohio gets their first Abercrombie & Fitch, and Sam Evans is their new star employee. And he is shirtless in every scene. The end.