Glee-Dux: Luck o' the Irish Comes to Glee!
Wednesday, November 02, 2011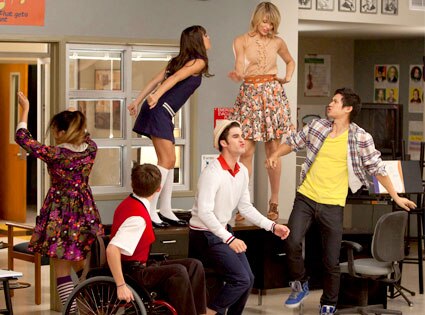 It has easily been years weeks since our last new episode of Glee, so tonight's new episode could've been about leprechauns and we still would have appreciated the fresh material.
Oh, wait. It was about leprechauns. Well, it was about Damian McGinty's debut as Rory, the new transfer student from Ireland. We also got Quinn losing her mind, Brittany and Santana finally making it official, and Sue finding a formidable blue-collar foe.
WHAT WE LEARNED
Brittana Lives: Well, we told you it was coming, but it still feels so good to see it actually unfold before our eyes! OK, it wasn't exactly a public proclamation of love with fireworks and matching hers-and-hers T-shirts. But Santana (Naya Rivera) and Brittany's (Heather Morris) casual chat about being together at Breadstix (where else?) was all we needed for right now. We learned that Santana is happy, and after seeing her scorching lecture to Rory in the hallway about messing with Brit, we know she's fiercely protective of her relationship, which we happen to think is just as sweet as any love song they could sing to each other. By the end of the episode, both Santana and Brit left New Directions to join Shelby's group, and while we think those ladies deserve more time to shine, it's a little heartbreaking to see the ole group split up.
We Do Not Know What's Going on With Quinn:
We've learned that Quinn (Dianna Agron) isn't the most stable of the bunch, but this "steal Beth" storyline is going far and beyond just a high school girl with emotional issues. When she calls child services, Puck (Mark Salling) is legitimately horrified, and he likes to sleep with older, married ladies in his spare time, so that's saying something. And no surprise here, Quinn is such a psycho hosebeast that she pushes the father of her child right into the arms of her daughter's adopted mom. Still with us? Good. Because we're not so sure we're with this plotline anymore. At least it brings us a sweeter and reformed Puck. The episode ends with Shelby (Idina Menzel) and Puck locking lips, which we're positive will lead to a happily ever after. Yeah, right.
Rory's Accent Can Melt Minds: But in a really, really good way. McGinty was fabulous in his debut episode, and his appearance at McKinley brought so much drama! Finn called Brittany stupid! Santana accused Finn of being jealous of Blaine! Lord Tubbington is still fat! Anyway, Finn showed much leadership by changing his mind about Rory and rescuing him from certain bully beatdown. He then brought him into the choir room, where Rory crooned his way into a spot on the New Directions team.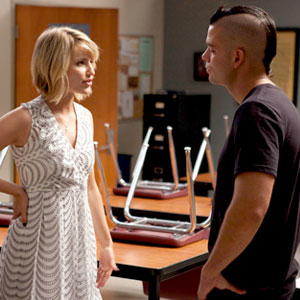 Burt Should Be President:
He is already president of our hearts, after all. Burt versus Sue (Jane Lynch) will surely bring many more insult-filled rants from both opponents, plus we get to see Mike O'Malley more, which is always a plus. But his choice to run against Sue brought up a valid question that we didn't even think about: What will happen to the family if Burt wins and has to move to Washington? At dinner, the Hummels mentioned Finn (Cory Monteith) taking over Burt's shop, which is an option we had yet to consider for Rachel's other half. Interesting segue into the football recruitment storyline that's coming up, no?