Glee-Dux: Santana and Finn Go Head-to-Head!
Wednesday, November 16, 2011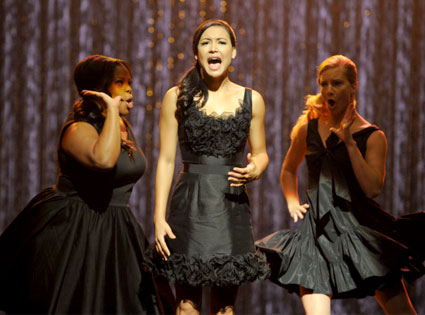 What a fun episode of Glee! Except for that whole, ya know, someone-getting-slapped-across-the-face thing. Every episode that has mash-ups is usually one of the best of the seasons, at the very least in terms of the musical numbers, and "Mash Off" was no different. Dodgeball, Van Halen, and someone is definitely hot for teacher.
.
Let's break down this week's Glee; plus Mark Salling will give us some insight on what's ahead for Puck…
WHAT WE LEARNED
Santana Is Outed Prematurely: Why was anybody (Santana) shocked that someone overheard her and Finn's big "you're in love with Brittany, come out of the closet" conversation? They weren't in the magic hallway where no one ever goes (Friends reference; we have millions)! And it wasn't so much a conversation as Finn straight-up telling Santana she was a coward for not coming out. And this rumor didn't just stay within McKinley High's halls. Someone running for office against Burt and Sue used that bit of info to call Sue a homosexual supporter, even going as far to call Sue a lesbian.
True, Santana was being unusually evil this episode, but no one deserves to lose control of something as precious as choosing when to come out. Finn, unintentionally or not, outed her, which left Santana heartbroken. During one of the best performances on Glee ever, Santana was noticeably shaken, even though she still owned that number like nobody's business. We also counted six meaningful looks to Brittany, which we like to think means she's sick of hiding her love for the blond dance machine. Brittana forever! In the end, Santana stormed offstage right after the number to confront Finn, who was having a hard time keeping up with her anger. But Finn has a hard time keeping up with coloring inside the lines so that's not saying much. Anyway, Santana ends her rant with a slap right across the face.
In the face!
Do you think Finn will ever be forgiven? Or was what he did completely unforgivable?
Kurt Will Probably Win the Presidential Race: So, Kurt was clearly not a fan of the movie Dodgeball. After a hilarious (but brutal) montage of New Directions versus the Troubletones on the dodgeball court, Kurt took the anti-dodgeball/violence stance at the senior class president debate. Well, he does know a thing or two about being bullied (see: season two). Rachel, who was still on the outs with Kurt, was so touched by his passionate speech that she immediately withdrew from the presidential race and endorsed him instead. That was enough to get those two crazy kids back together. Kurt and Rachel are one of our favorite pairings on Glee, so it's nice to see them not hating each other.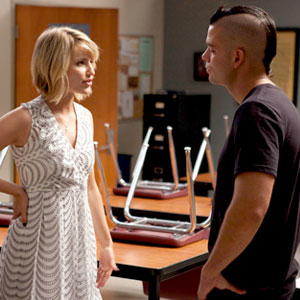 We Are Kind of Done with Puck-Quinn-Shelby: Look, we absolutely adore Idina Menzel, Mark Salling and Dianna Agron, but we're so not on board with their storyline anymore. Mostly because Quinn is bat-s--t crazy, and we want more for our doe-eyed gal. However, we did get to see "Hot for Teacher," starring Puck, which was a performance you can tell the cast had a complete blast filming.
But back to Shelby and Puck. He claims he's in love with her, and she isn't exactly pushing him away with both hands. And who can blame her when Puck is practically undressing her with his eyes? Lucky lady. Shelby is also busy dealing with Quinn, who's still trying to steal Beth back, and Rachel, who just wants a recommendation letter from her mom. All in all, Shelby is bringing way too much drama to McKinley, which is a shame, because she's really a good glee coach. That would be enough for us. Can't they all just get along? According to what Mark Salling told us (more on that below), this Shelby-Puck "love" isn't going away.
Was It Just Us? Moment: Did Blaine look like Mario to anybody else while wearing the faux mustache?