Glee-Dux: Was It Good for You? #TheFirstTime
Wednesday, November 09, 2011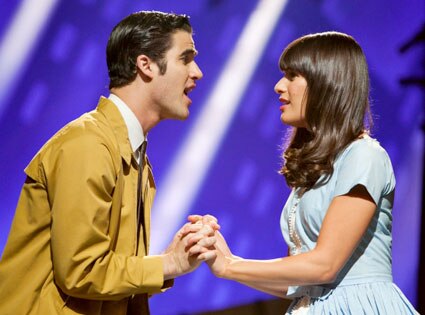 We can't remember. Was something supposed to happen in this Glee episode? We can barely find anything to talk about.
Oh, that's right. We've been beating you over the head with videos, interviews and spoilers for this big episode since early 1994, so you guys know everything there is to know about "The First Time," right? Wrong. Still so much to talk about!
Plus, we've got some intel on what's happening on Glee after Finchel and Klaine do the deed…
Note: While we adored West Side Story being interwoven with the episode, we are very disappointed that we won't get to see a more complete production of the musical on Glee. "America" and "A Boy Like That" were wonderful, and we were left wanting so much more. Why not devote an entire episode to the West Side Story?! OK, thanks for letting us vent, guys.
Finn and Rachel Had Sex: The couple famously known as Finchel finally had sexy time. And hopefully, no one ends up pregnant. Not likely, since Rachel (Lea Michele) told Finn when they first attempted to have sex that she also brought protection. We think they were prepared, don't you? The whole "losing virginity" movement started when Artie (Kevin McHale) told both Rachel and Blaine (Darren Criss) that the chemistry between their Tony and Maria wasn't believable because they had not done the deed themselves. Um, who decided that Artie was the expert on sex?
Attempt No. 1: Rachel reveals she's mostly doing the sex with him so she can succeed in the musical. Finn (Cory Monteith) gets pissed, understandably, because he wants it to be special. Afterward, Quinn (Dianna Agron) tells Rachel to wait. Tina (Jenna Ushkowitz) tells Rachel that her first time with Mike (Harry Shum Jr.) was special and something they'll always remember. Who should she have listened to?
Attempt No. 2: Finn gets his heart broken by the Ohio State football recruiter, who basically tells him that he won't be playing football after high school. This is the first time we've seen Finn really unhinged, and Rachel swooped in with her virginity to make him feel special. That just perks him right up. Discuss: Did Rachel only have sex to make him feel better, or was she truly ready?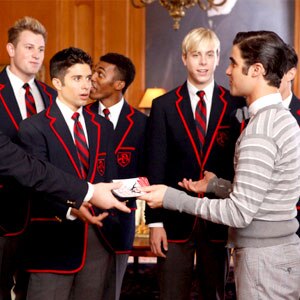 Blaine and Kurt Had Sex:
The couple famously known as Klaine also had sexy time. After spending half the episode wondering if they were spontaneous enough, both Kurt (Chris Colfer) and Blaine hit up a gay bar to hang out with Sebastian (Grant Gustin). In case you
haven't already heard
, he wants Blaine. A lot. Kurt stays sober and watches his boyfriend dance with Sebastian, when suddenly Karofsky (Max Adler) pops up to inform him that he's taking "baby steps" coming to terms with his sexuality. Also, we're pretty sure Karofsky was wearing head-to-toe denim. It was a nice moment between the former enemies, even if Kurt was still wary of his attitude. Did you sense a spark between the two?
Later, Blaine drunkenly tries to seduce Kurt in the backseat of the car, which turns into the first major fight they've had as a couple. Kurt feels worthless after being propositioned like that (rightly so), and Blaine storms off. But the two of them talk it out after the first night of West Side Story, and Blaine promises that there is nothing between him and Sebastian. We're not sure it's going to stay that way. Kurt turns down Blaine's request to go to Artie's afterparty, and they instead head to Blaine's for some alone time.
Both "love scenes" were paired up with Rachel and Blaine singing "One Hand, One Heart" from West Side Story, and that saved the final moments of the show from being really cheesy. Even the most cynical fan had to warm up at the sight of the couples snuggling and basking in the glow of their love while that song played softly in the background. Well done, editors. Also, Kurt and Blaine nuzzled noses. Be still our shipper hearts.
There was no graphic sex scene, no nudity, no gratuitous anything. Just seeing the couples smile at while lying next to each other was all the audience needed. Perfection.
Coach Beiste Did Not Have Sex: However, she does have a new love interest. How cute were these two? We love to see the adults of Glee still involved with the action, even if the only "action" they technically get is flowers and a date. Still just as momentous as other core couples making love for the first time.
Rewind Moment: Mike Chang looked smoking hot as Riff. Internet, can you tell Mike his hair looks sexy pushed back?