Why Chris Colfer Thinks Ricky Martin Is Hotter Than Matthew Morrison
Saturday, December 10, 2011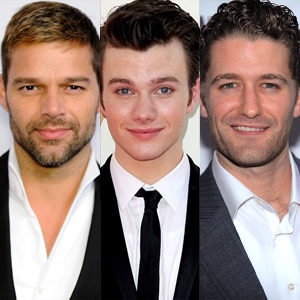 Mr. Schue needs to up his caliente factor pronto. As you may have heard, Ricky Martin is set to give Matthew Morrison a run for his dinero on Glee as McKinley's High's new supersexy Spanish teacher.
So which one of the two hunks does Chris Colfer think is hotter?


"I can't say Matt, because Matt's like my big brother," Colfer told us at the HFPA's A Night of First's event in West Hollywood. "So I'll go with Ricky. I think he comes in and kind of almost takes his job. So we'll see what happens. I hope they throw down. That would be great."


Don't expect Colfer to duet with the "Living La Vida Loca" singer or other soon-to-be Gleek Gloria Estefan.
"No, because I can't speak Spanish to save my life!" he said. "If that's what we'd be doing, I would butcher the language and I'd get angry letters. No, absolutely not."
Rapping with another upcoming Glee guest star Pitbull is a different story.
"I hope I'm rapping," he joked. "Wouldn't that be hysterical? I can try. I can do a little 'Fergalicious.'" Or perhaps some Nicki Minaj? Colfer laughed, "I can do 'Super Bass.'"