Glee-Dux: How Much Christmas Spirit Can Glee Fit Into One Episode? More Than Enough!
Wednesday, December 14, 2011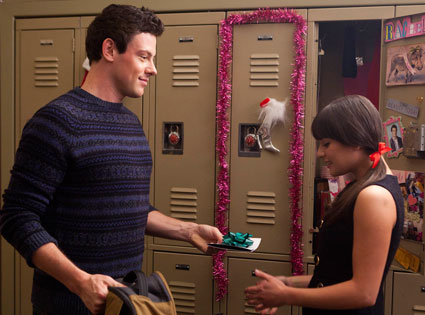 Yay, Christmas! Glee gave us a gift of an episode tonight, and it was full of good will and great cheer. And plenty of festive songs that put us right in the mood for the holiday season. In fact, you might as well just quit working/schooling now because according to Glee, it's time for Christmas!
WHAT WE LEARNED
Black-and-White Makes Everything Better: Was it just because the look was so retro, or was that holiday special within a holiday special extra delightful? How could you not smile as Kurt (Chris Colfer) and Blaine (Darren Criss) welcomed us into their home for a little visit? Each minute was cheesier than the last, and we couldn't possibly pick which number to favor, but it doesn't even matter! New Directions showed us the right way to celebrate the holidays: good songs, good friends and Star Wars characters. Oh, and Cheerios dancing round in revealing outfits, of course.
Glee Can Still Teach a Lesson:
Yes, the holidays are all about spending time with loved ones and singing catchy songs, but this is also the time to think about those in need, like Sam (Chord Overstreet) and Rory (Damian McGinty) did. And while we certainly enjoyed the Glee holiday special (see above), we thought the scene in the homeless shelter with all of New Directions was particularly heartwarming. All it took was a quick convo between Sam and Quinn (Dianna Agron) to remind us that not everyone has the means to have a good holiday. And if we can get some good Sue Sylvester (Jane Lynch) lines out of the same scene, then that's the best Glee gift we can think of. Oh! And Emma (Jayma Mays) made a quick appearance! We miss you, Miss Pillsbury. Of course, something tells us we'll be seeing a lot more of you
real soon.
And in case you didn't hear, Glee will donate 100 percent of the sales of the "Do They Know It's Christmas?" single to the Band Aid Trust.
A New Bromance Is Born: Damian did tell us that he and Sam bond over being away from their families, but we had no idea it would this bromantic. Especially since Rory also wanted Sam to be his Valentine's Day sponsor as well. We know there are people out there who are still convinced that Sam is gay, so we know they are taking this bromance and running with it all the way to the speculation bank.
Finchel Continue to Warm Our Hearts:
How cute was Finn's gift to his girl? What'd we tell you? Not the pig, although we did adore how Rachel took a liking to it and named it Barbra. It wasn't the star that we loved the best; it was the fact that he named it Finn Hudson because there was already a star named Rachel Berry. And sure, Kurt and Blaine's gift-exchange scene might have been cut for time so we don't really have anything to compare it to, but when Finchel decided to give back instead of indulging in materialistic items, they just zoomed to the top of our nice list. Speaking of giving back, because Glee put us all in such a festive mood, we just wanted to let you all know that you can
go here
to adopt an angel for Christmas and help the less fortunate have a truly special holiday.