Glee-Dux: Sectionals Showdown! Who Came Out on Top?
Wednesday, December 07, 2011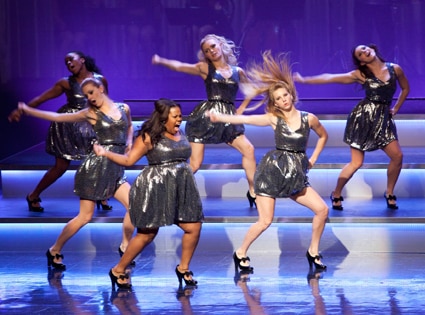 Oh, White Chocolate Sam Evans. Thank you for returning to Glee to spread your blond-haired, blue-eyed charm. You made everything better!
No, seriously. He did. Within five minutes, you were trending all over Twitter. You managed to get through to Quinn and her "rich white girl problems," and you saved Sectionals. And a huge thank you for causing Darren Criss to have a boxing scene. Welcome back, Chord Overstreet!
WHAT WE LEARNED
Everyone Is Friends Again and Everything Is Made of Rainbows: Did anyone really think that the Troubletones and the New Directions would continue to be two separate groups after Sectionals? New Directions triumphed in the end with their hour-long seven-minute-long Jackson family tribute. We had doubts after seeing the Troubletones rock their "I Will Survive/Survivor" mashup, but New Direction came through again and charmed the pants off us with the help of Tina (Jenna Ushkowitz) and Quinn's (Dianna Agron) solo, Mike's dance moves and Sam doing things with his hips.
After the competition, Quinn promised Santana (Naya Rivera), Mercedes (Amber Riley) and Brittany (Heather Morris) that if they came back to New Directions they'd be guaranteed time in the spotlight. And that promise had been Will Schuester (Matthew Morrison) and Rachel Berry (Lea Michele) approved. While it's awfully convenient to just smash the two groups back together, even the most jaded Glee fan probably cracked a smile during the final number when everyone got together, happy as clams, preparing for Regionals. Speaking of, in case you missed the tip from Sebastian (Grant Gustin), the Warblers will probably be at the Regionals competing against New Directions, too.
Sam Evans Makes Magic: Seriously, he accomplished so much in one episode. Quinn is back to normal because he told her to "hold onto 16 as long as you can." He brought Finn (Cory Monteith) and Blaine together to start a bromance. And he had a hand in making the New Directions performance more dance-heavy, which probably helped them take first place. But back up to that Blaine boxing scene: We weren't sure if we should laugh at the randomness of it or be turned on by Blaine's sweaty angriness. A little bit of both? And it also looks like Samcedes is far from over. Though Mercedes brutally rebuffed him at first, her little smile during his hip shaking at Sectionals spoke volumes about what's really in her heart. Plus there was this adorable line from Sam: "I don't care how big or bad your boyfriend is. I'm gonna fight to get you back!" Aren't those two just the cutest?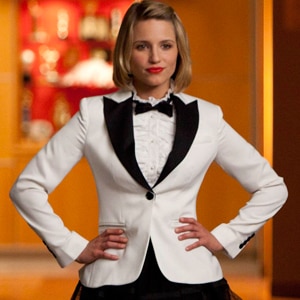 Quinn Finally Found Her Marbles: Finally! Quinn is back to the smart, cool and pretty teenager we all fell in love with. And she made peace with Rachel, which I know made my Fabrerry fans go insane in the membrane. She didn't report Shelby (Idina Menzel) for her inappropriate relationship with Puck (Mark Salling) because it wasn't in the best interest for her daughter, and Quinn was the one who pieced back the entire New Directions. Yes, it was truly heartwarming to see our blond beauty stop rushing to grow up and just enjoy her final months in high school. She also tried to get back with Sam, but he was not having it. Something tells us Quinn isn't completely uncrazy, and she doesn't like being denied anything. We like when you're a little nuts, Quinn. But only in small doses.
Mike and Tina Remain Adorable: When we chatted with Harry Shum Jr. at the Trevor Live event, he was supremely proud that Mike and Tina were Glee's longest-standing couple. And after tonight's episode, we totally see why. Tina managed to convince Mike's dad that dancing was a legitimate career option, especially since it makes her boyfriend so happy. And Tina sent in applications for Mike so he can continue dancing in college. Even when they got into an intense fight (Tina called him a coward), those two managed to remain intact and more in love than ever before.