Glee Scoop: Chord Overstreet Spills on His Big Return!
Friday, December 02, 2011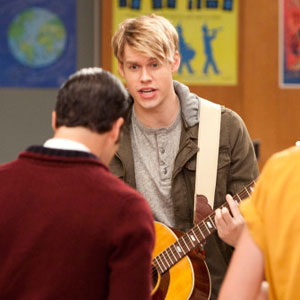 Chord Overstreet, your lips are so beautiful. Especially when you use them to tell us all about your return to Glee.
Ever since it was announced that Chord would be returning to Glee after opting out of the third season, fans have been salivating for any bit of scoop regarding Sam's reasons for coming back, and where he stands with former girlfriend Mercedes (Amber Riley). Luckily, we just got off the phone with Chord, so we can answer all those questions, and then some...
Fans were so excited to hear you'd be coming back? Why did you decide to return to Glee?
Chord Overstreet: They asked if I wanted to come back and I got a good break to do a lot of musical stuff, and I got a lot accomplished. So I decided to come back after I got the majority of that stuff done. I'm excited! It should be fun.
Was it always in the back of your mind that you might come back?
You know, everything was kind of always up in the air. I never really knew what was going to end up happening, but I always tried to keep an open mind for everything. I just did music and tried to focus on that and now I'm enjoying working on Glee, and having fun doing it—so it's all good.
How did the fans react to you on Twitter when it was announced you were returning?
The fans are great. They were freaking out and they were awesome. They were really excited, so I'm excited as well. I can't wait to see the first episode back and see how it looks.
Let's talk about that episode. What brings Sam back to McKinley High?
Well, they need him to help perform at Sectionals because Rachel gets suspended for fixing the elections for Kurt to win. She rigs it.
And judging from the promos, he's at a strip club?
[Laughs.] Um, yeah, maybe! They find me in a bar/club. It's going to be a really funny scene.
How did you react when you found out you'd be first appearing nearly naked?
It was kind of like last season, you know? And I get cold too!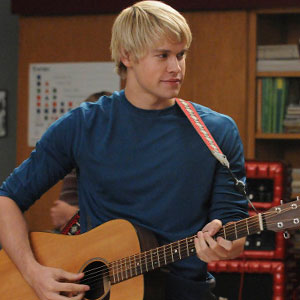 Do we get an explanation on what he's been doing since he left?
Not as much about what he's been doing. He's just trying to pick everything back up from where he left off. You get to meet his family and stuff, which is cool. It kind of goes into a little bit of an explanation of what he's been going through—he's been kind of having a hard time. And when he comes back he tries to pick everything back up with Mercedes, and she's not really interested. He's trying to figure out where he fits in back in this school that he has been away from for the last few months.
Does he enroll back into McKinley High?
I don't really know all the details so, anything can happen.
Let's talk more about Mercedes and Sam. Fans were bummed when you left Glee because they wanted to see that relationship. What's he plan on doing to win her back?
Takes his shirt off, maybe tries to win her over with his boyish charm. [Laughs.] I don't know. He's just exploring and trying a bunch of things. He's trying to get on a school team so he has a little bit more popularity, I guess. The popularity thing is a route that he is trying to explore to see if that helps, but she's not interested in him because she's got that big bad boyfriend. So, we'll see how all of that stuff goes and turns out.
Fans also really loved you and Quinn [Dianna Agron] together. Any chance you guys might date again?
I haven't really heard anything about that. I mean anything is a possibility, who knows. She may be a little too crazy for Sam right now, I don't know. If she gets her stuff together maybe, but we'll see.
Based on the video of the Troubletones performance, New Directions might be in trouble during Sectionals.
I think we've got a lot more moves that people haven't seen.
We're hoping you'll stick around past this season. Do you know if Sam is a junior?
I don't know how old he is. I don't know what year he is in school, I don't know if he's a senior, junior, freshman, sophomore...I honestly couldn't tell you. He could be in middle school for all I know!
So, we're going to find out Sam is 10 years old?
Well you've seen that movie Jack right? With Robin Williams? It's one of those situations.