Sam is joining the Synchronized Swim Team and Guess Who is His Coach?!
Wednesday, December 07, 2011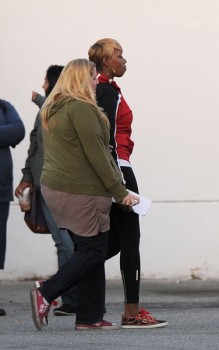 Remember
this post
about the glee cast filming in Venice, CA? Well we just found out who the person in
THIS <--
photo is. :)
Nene Leakes! Nene will be playing Roz Washington, a swim coach! It seems that Chord Overstreet's character, Sam, joins a synchronized swim team to try and get Mercedes back. But really we all know the real point is to get Chord Overstreet in a speedo. Nene will be wearing a track suit for her appearances which are rather substantial. Nene is reportedly getting along well with everyone on the set but spends most of her time with Chris Colfer.

* Coach Roz Washington, for which the show is seeking a well-known comedic character actress in her 30s or 40s.