Chris Colfer: I'm Making Another Movie! (Yes, He Wrote This One, Too)
Tuesday, January 17, 2012
Chris Colfer is turning into a mini movie mogul.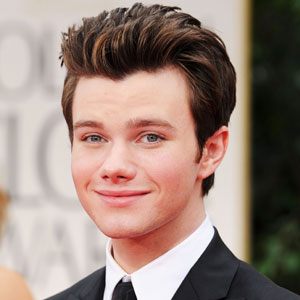 The Glee star tells me that his film debut,
Struck by Lightning
, which he wrote and is starring in, will probably hit theaters in the fall.
But even before then, cameras will begin rolling on his second flick…
He's being tight-lipped on details, but he did reveal he wrote the script for this one, too. "I actually had to do research on this one," Colfer told me at the Golden Globes. "I couldn't just pull it out of my ass. I had to do a lot of research."
He said he already has a director and producers "attached." Unlike his starring role in
Struck by Lightning
,
he'll appear in the new movie as a "supporting character."
"I'm a very vain writer," he cracked. "I write for myself."
Shooting is expected to begin this summer.
Stuck by Lightning revolves around a high schooler who gets hit by lightning after blackmailing classmates to contribute to his literary magazine. The dramedy costars Christina Hendricks, Sarah Hyland, Dermot Mulroneyand Allison Janney.
And speaking of Janney, she tells me she's itching to return to television. "I'm a worker bee. I like to work," Janney, who won four Emmys for her work on The West Wing, told me at the Critics' Choice Awards. "Right now, there are three or four things circling my orbit."