Cory Monteith Dishes on Finchel's Future +Spoilers! (Round Up)
Wednesday, January 18, 2012
What will Rachel's answer be?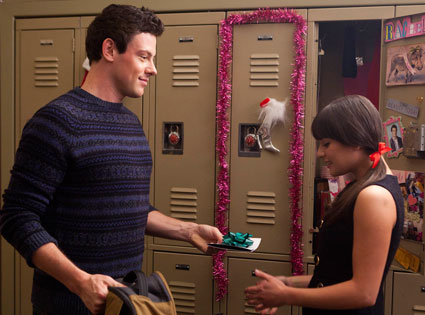 That's what gleeks everywhere are no doubt wondering following Tuesday's helluva cliff-hanger: Finn, still directionless and newly hit with a boatload of bad news about his dad, got down on one knee and asked Rachel to marry him! TVGuide.com quizzed Glee star Cory Monteith about whether or not Finchel will soon be walking down the aisle, the Bee Gees tribute episode, singing en español, the movie he's producing for Fox 2000, another Glee tour and more!
Oh, and he'll "definitely" be back for Season 4. Yay!
So, what are you allowed to tell us about Rachel's answer?
Cory Monteith: She provides her answer -- in true Glee form -- in song. We pick up where we left off tonight in the following episode. [Editor's note: The next new episode airs on Jan. 31 — and it's the Michael Jackson tribute!]
And it will be either "yes" or "no," correct?
Monteith: Correct, it is a definite answer. But, you know how kids are. I don't think it's going to be as simple as they think. I suspect there's more down the road. Her answer is shocking, I can tell you that.
Finn has one of the stronger storylines this season, being unsure about his future after high school. Is his proposal to Rachel an extension of his feeling lost?
Monteith: Absolutely. It's not only him grasping at straws to maintain the relationship, but I think that's definitely part of it. It's equal parts Finn not knowing what he wants and Rachel being the best thing going in his life — coupled, of course, with him actually being in love with her. But I think it's all a little more complex than Finn thinks it is. He's got a very idealistic point of view of how [getting married] should go down and how it will go down. He doesn't understand — as no 17- or 18-year-old would -- how difficult it's going to be.
Will the other glee clubbers find out about the proposal?
Monteith:
Yes! There's one stirring scene in particular with Finn and Kurt — a "I thought we were supposed to be brothers" moment.
There will be the kind of reaction that you would expect. Also, I think Finn is going to be on the learning curve of "Oh, it wasn't just as simple as proposing and her saying yes." There's a lot more to it.
Here's hoping the big news means more scenes with Finn's mom, Carole, and Burt, which are always great.
Monteith: Scenes with Chris and Lea, scenes with Burt and Carole, those are the great scenes!... Those are really where a lot of the better acting gets done, not to say anything bad about the other scenes. One of the most exciting things about Finn's proposal is that implies that a lot of good stuff will be coming down the road for Finn and Rachel and his parents and Kurt and everybody.
What was your reaction when you read in the script that Finn would be popping the big question?
Monteith: I freaked out and called Lea. We were both floored and kind of blindsided by it. It makes sense, but it was like, "Is this actually happening?" It's sort of been a long time coming, and it felt like the right timing. I think [the episode's] got some of my better work on the show. For me, it was really exciting to be able to have that scene with her. I have so much history with Lea and so much to draw from in terms of these characters.
Glee boss Ryan Murphy said he'd love for the show's Bee Gees tribute to include a dream sequence where you get to dance with John Travolta. Thoughts?
Monteith: Yes, please! I really hope that happens because it would be amazing, just as a look-back-on-your-life-when-you're-50 kind of thing. I hope Ryan goes through with it and I hope that they ask John and I hope he says yes! I've got my fingers crossed at this point — I'm just an actor, you know.
Coach Sue's supportive side has been on full display two episodes in a row now. With her campaign over, where does she go from here?
Monteith: I actually don't know. The scripts come out a couple of days before we shoot the episodes; today we're working on a couple of different episodes, we're wrapping up the Ricky Martin episode and we're shooting a Valentine's Day episode as well. I think it's really interesting to see the softer side of Sue, to see a character that's "the bad guy" switch gears a little bit. Jane can handle it. She's brilliant.
The Ricky Martin episode! Do you get to sing anything in Spanish?
Monteith: I can't say anything about it yet. It's not a solo, but it's really goofy and awesome.
Can you reveal anything about the other winner of The Glee Project, Samuel Larsen? Is he coming on the show soon?
Monteith:
Yeah, he's here today. I can confirm he's here, but we haven't been formally introduced yet. His is a very interesting role and it ties into a lot of preexisting storylines. It feels very natural. It's a smart way to bring him into the show. I hear he's very talented.
Murphy had previously told us his character would be a relative of Puck's.
Monteith: I do not know if that's true yet.
He joins the show in the Valentine's Day episode.
Are you guys going to go on tour again this summer? Do you want to? Outside of Glee, you're in a band and working on movies...
Monteith: There are a lot of different things I want to do. The tour was a really exciting part of what the fans really wanted to see. There's definitely a demand for it. I really don't know what... it's kind of like, I show up where they tell me to. I really don't know!
What's the status of the movie you're producing and starring in for Fox 2000?
Monteith: It's still in full-effect. We're working on the second writer's draft at the moment. It's in development and moving along nicely. I think it's fast-tracked or something because things really seem to be cooking. We're starting to get into specifics about characters, some neat action sequences... It's been really, really exciting to be a part of producing something like this.
Can you tell us what it's about?
Monteith: It's a heist film centered around an ensemble of interns in a financial institution — think Madoff. It's St. Elmo's Fire meets Ocean's Eleven.
We didn't see that coming (well I kinda did since I watched the episode last week but whatevs)!! Glee's latest episode, "Yes/No", not only ended with Will (Matthew Morrison) and Emma (Jayma Mays) getting engaged during an epic synchronized swimming number but also the more shocking twist of Finn (Cory Monteith) proposing to Rachel (Lea Michele)! What's gonna happen next? Will she say yes? How long were they in that pool? EW talked to Monteith about the major episode and cleared up whether or not he'll be back in season four.
ENTERTAINMENT WEEKLY: Finn proposed to Rachel! Were you surprised when you read the script?
CORY MONTEITH: We were floored. I knew it was coming but I didn't know it was gonna be that much of a cliffhanger. And the way that it was shot and directed, he gets down on one knee but you don't even know if he's proposing. You just don't see it coming.
Does Rachel give him an answer in the next episode?
She sure does.
She gives him an answer in the form of a song.
[laughs] I don't know man. It's one of my favorites.
So is next week Finn and Rachel dealing with the aftermath of this?
Yeah it's sort of sandwiched into the Michael [Jackson] episode.
Ah so does Rachel answer with a Michael Jackson song?
Yes.
[CUE TIM TRYING TO MENTALLY SCAN JACKO'S CATALOG FOR SONG'S INVOLVING THE WORDS "YES" OR "NO"]
How was it filming the proposal for you and Lea?
Lea is one of my best friends and we've been doing this for so long. These characters are such a big part of our lives. These characters absolutely changed our lives. So to have it cumulate into that one moment is very powerful for both of us. We both got like chills. It was really weird. After he said Cut, we both were getting like hot flashes. It was really weird man. For some part of my little psyche, it was actually happening.
You were both going through menopause.
I know. Menopausal Finn and Rachel. It was so f***ing intense.
What did you think about the twist with Finn's father not being the war hero? That was a pretty emotional scene for you.
The challenge is always to keep it real. You gotta fall somewhere between giving the best performance for myself as an actor and then kind of giving the best performance that is realistic to what Finn would do. Finn doesn't wanna go there. He's the typical boy that sorta doesn't wanna cry in front of people and doesn't really wanna go through that. It was kind of finding the balance.
I think the "We Found Love" number was one of your best ever.
It was a jerk to shoot lemme tell ya. It was a pain in the ass. But it turned out really, really well.
Just because you were in water that long?
Yeah we were in and out of the pool all day. They had to keep the doors open because there was a humidity issue and it was really cold. At one point, I just elected to stay in the pool because if you stay in you kinda don't get cold when you get out. So I was in the pool for probably about 3 hours without coming out of it. I was pretty freakin' pruney man.
There's been all this talk about season four. At TCA, it wasn't entirely clear if you were coming back. What can you say about season four?
I'm not entirely clear on who is graduating and who is not but I know that I am graduating and will be on the show for season four. It's been such a great ride. I think there's still stuff to be uncovered with Finn. His storyline has not quite run its course yet so I'm happy to come back and do that.
Let's just say if you haven't seen the jaw-dropping final moments of tonight's Glee yet, you better run away, and fast!
I just got off the phone with shock-master Cory Monteith himself, who dished on the scene he believes will "blow a couple people's heads off!", what happens next (Rachel responds!), and confirmed what all you fans have been dying to hear straight from Cory's mouth:
Yeah, no need to worry about Cory going anywhere. Cause Rachel's fiancé (whoa?!) confirms he is staying on the show past this season! "I will be graduating from William McKinley High School and I will be returning to Glee in season four."
Holler. So there you have it. On the record.
As for tonight's truly most surprising Glee moment yet, where Finn got down on one knee and proposed to Rachel, Cory couldn't be happier with how it turned out, thanks to director Eric Stoltz. "The cliffhanger is so effective at the end of the episode, right?" Cory muses. "You really don't see it coming! Even when he's down on one knee, you think he's going to give her a promise ring or something, you know what I mean? It was brilliantly done by [Stoltz]. There's so much personal investment. I can speak for Lea and myself, we're just so invested in these characters that the payoff was amazing. It was an amazing experience to do that scene. It was the most exciting scene I've ever done on the show!"
Cory reveals that the next episode of Glee will pick up right where this episode left off.

"Yes, you will [see Rachel's response]. And in proper Glee fashion, she responds to the proposal in the form of a song. Of course!"

Of. Course.
So why'd Finn pop the big Q now? "Finn has some real, real feelings for Rachel that lead toward it," Cory explains, "but I think he's also trying to hang on to something. He's trying to keep the love locked down. You know what I'm saying? He's trying to hang on to what he considers to be the one good thing in life he has going, which is his relationship with Rachel. He feels like it's his. He's kind of down on himself because everyone knows what they're doing; everyone knows where they're going and he doesn't. And the one thing he knows he wants is Rachel. He's in love with her."
When asked if Finn finally took Kurt's season-one "Single Ladies" lyrics to heart, Cory laughs, "That's totally what he's trying to do. He's trying to put a ring on it!"
And now, the money quote that'll really get you Finchel (Finn and Rachel) fans to blow your lids. (You are welcome.) Here's what Cory has to say about his chemistry with Lea: "It was always there. Right when we started the show, that's very much the way it was and I never had trouble acting in scenes with Lea, she just gives so much. She really does. In front of the camera, she gives a lot to me opposite her. So that was always there. And then three years later, we just have so much to draw from, there's so many episodes, there's so many experiences between these characters, there's so much backstory now, which is kind of the brilliant thing about television. There's so much to draw on. It just builds a level of trust. I really feel like I can go anywhere I need to go. Specifically for that proposal scene, I could get a little mushy and just play it really natural with Finn, especially with Rachel."
Check back bright and early tomorrow for part two of my chat with Cory Monteith, who exclusively reveals whether he is playing a janitor next year (jokes, people, jokes) and more scoop!