Damian McGinty Talks Returning For 'Glee' Season 4, New Love Interest (Or Two) & 'The Glee Project'
Monday, January 09, 2012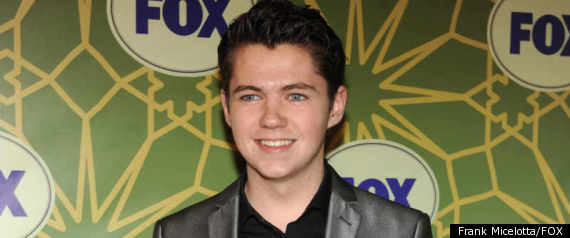 In real life, Damian McGinty is just as sweet as he was on "The Glee Project," and just as adorable as he's been as Rory Flanagan on "Glee" this season.
And yes, the boy can sing, which is why they've kept him around on "Glee" even longer than his prize as the winner of "The Glee Project" initially called for. But how many more episodes will he be on? Is he coming back next season? And when is he going to get a love interest?
I caught up with McGinty at Fox's Television Critics Association party to get all that scoop and more, including whether or not he plans to return to the Oxygen reality show that made him a star, and which of the leading ladies on "Glee" fans want to see him with.
When is Rory going to get some really good stuff to do?
You know, it's weird this season because so many of the core characters are graduating -- there hasn't been any new characters this season apart from me. It's hard for a new character to come in because the "Glee" audience wants to see the originals before they graduate. I think Ryan [Murphy] is nurturing me; he's growing me.
Yeah, I really do. So far I've been in six episodes, and three of them I've had a big part in. For me, that's good because I've never done this before ... I've never done acting before. It's crazy, but it's really helpful for me to sit back and watch Lea [Michele] do her thing. I'm loving it -- it's what I needed.
So next season you'll be ready to really go all out?
I hope so! That's my plan. It's a done deal!
Is it? Are you for sure coming back for next season?
No, that's not a done deal yet ... it hasn't been made official. I did win seven episodes, I'm on my tenth, so ... things are going good. [Laughs]
You mentioned Lea -- does she understand you now? I know she was having a really hard time with your accent ...
Yes! She worked on it for like three or four months -- we're now in the fifth or sixth month and she almost has me. [Laughs] I love Lea ... she's so inspirational. She's so professional in what she does. She's amazing. She's welcomed me with open arms. On set, she's like my big sister. I didn't imagine that happening, but she really is.
But your boys are still your boys ...
My boys -- oh yeah, absolutely! Kevin McHale is probably one of my best friends. Chord Overstreet is such a good guy; Cory Monteith and Mark Salling, hilarious; Chris Colfer, such a nice guy; Darren Criss, amazing. I can't speak highly enough of them -- they're all amazing.
For the next season of "The Glee Project," will you be back as a mentor?
We're having talks ... talks are ongoing. I hope to be back because I feel like last season I had ... whatever the ultimate "Glee Project" experience is, I think I had it. I also believe I could give them a lot of good advice because I know exactly what's going to come their way.
There's no way to prepare!
No, there's no way to prepare for this. "The Glee Project" really helped -- what I didn't realize was how much work is involved outside of work. I'm such a normal, small-time guy, and I'm not used to red carpet events and Hollywood freaking parties. I'd rather sit in and play Xbox! [Laughs] It's crazy. But I realize that it's part of my job, and I will never say no to anything.
What about a love interest for Rory? I think it's time!
It is time! At the minute, I don't know exactly what's going to happen, but I spoke to Ryan on Friday and there's a storyline coming up with me and a few other characters, so we'll see what happens.
Wait, multiple love interests?
We'll see! [Laughs] That's "Glee XXX." I don't think Rory's a threesome kind of guy!
I don't know if he'd know how to handle even one girl! Who would be your choice, or who do fans say they'd like to see Rory with most?
They're all beautiful, but I get Quinn a lot -- a lot of people tell me, "You should turn Quinn good." [Laughs] She needs a little Irish person -- a little Irish leprechaun. We'll see what happens.