Darren Criss Reveals How Long He'll Be Gone From Glee and More
Tuesday, January 03, 2012
Hey, Darren. You're a vegetable. You're a vegetable. We wanna eat off of you. You're a vegetable.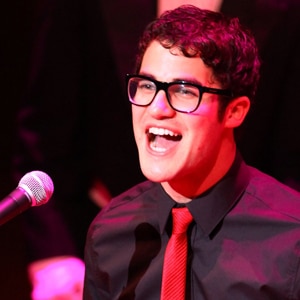 Ahem, sorry. Inappropriate? Well, you'd be singing this so-wrong-it's-not-right ditty too if you'd met up with Glee's resident swoonmeister
Darren Criss
, who was perfectly delicious when we interviewed him for his Broadway debut in How to Succeed in Business Without Really Trying, which begins tonight.
Darren spilled some interesting deets on Glee's upcoming Michael Jackson tribute, including his surprising role in the episode, Jackson's "wildest lyrics ever" and how long he'll be MIA from McKinley High...
First things first. You Blaine/Darren fans can all breathe a collective sigh of relief. Do it with us now: In...Out....
Despite rumors that Darren will be off of Glee for a long while, Kurt's BF tells us he had only three weeks off from production, during which he squeezed in his Business run. "I'll be gone for maybe one or two [Glee] episodes. There's a lot going on on that show. You won't even notice!"


And apparently, fans will be getting a huge dose of Blaine in the episode he shot right before leaving: the Michael Jackson tribute. "I thought that before I was going to leave, they might write Blaine out just to make things easier on everybody," Darren admits. "Nope! Right before I left, Blaine had a lot of really cool things to do for the Michael Jackson episode. When you see that episode, I shot all my stuff in four days. It was quick! It was a shotgun of crazy, exhausting stuff and it was both a thrill—because you really wanna do justice to these awesome songs—but frustrating, because I wanted it to be perfect and amazing. So hopefully they cut it right."
Darren also got a big laugh prepping his solo in the ep. "I'll be doing a few [songs] with New Directions. But Blaine is doing 'You Wanna Be Startin' Somethin'' by himself, which is a great tune. Wildest lyrics ever! It's cool because it's Michael Jackson. But at one point he's like, 'You're a vegetable. You're a vegetable. They eat off of you. You're just a buffet. You're a vegetable.' [And it's like], 'Whatever. Michael Jackson's singing it. It's cool!'"
Darren's first Business performance tonight is sold out, and when his run ends on Jan. 22, he'll be taking his bags with him to the final performance to catch the next flight back to L.A. and the Glee set.
His only teeny-tiny regret? "I'm actually kind of bummed out about this but Ricky Martin is going to be the substitute Spanish teacher on Glee, and we'll be ships passing in the night. He'll be coming to New York to be doing Evita. It's a big Latin episode with Gloria Estefan. But hey, if I'm going to miss something like that at least it's for something like this."
Eat your vegetables, y'all.