Glee-Dux: Holy Plot Twist! A Proposal, a Marriage and a Huge Game-Changer!
Wednesday, January 18, 2012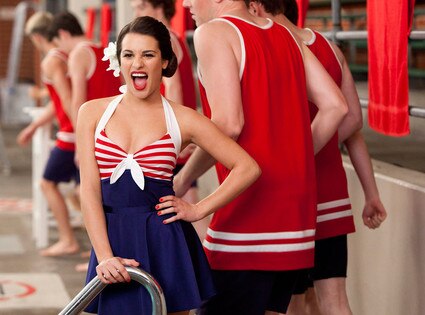 There wasn't anything to talk about from this episode of Glee, right? Barely anything happened.
Ah, jokes are fun. Of course we have tons to talk about. There was the big Will and Emma proposal, and we found out a couple was already married! And then there was the biggest surprise of all: the totally shocking, completely jaw-dropping moment when…wait. Let's not talk about it yet, especially if you haven't watched tonight's episode of Glee.
Avert your eyes if you're behind, but if you're not, jump on in! We've got lots to talk about…
WHAT WE LEARNED
Finchel Fans Are Probably Dead: Are there any Finn and Rachel fans still breathing out there? Or have you been holding your breath since Finn, you know, got down on his freakin' knee at asked Rachel to marry him?! Right on the auditorium stage where they had their first (quick) date! Yes, that is the big twist that we've kept bottled up since we previewed the episode. It's such a relief to finally talk about it!
Finn (Cory Monteith) got positively devastating news when he found out his war-hero father was no war hero at all. He was dishonorably discharged, and he died in Ohio because of a drug overdose. Basically, Finn's hero was taken from him in the blink of an eye, as well as his future plans. The only thing certain in his life? Rachel. Now, we're not sure if it was losing sight of his future, losing his dad (again), being hopelessly in love with his girl, or a combination of all those things, but Finn popped the question. Now we're just waiting on the answer! And not that we're totally Negative Nellies, but didn't Rachel's (Lea Michele) face looked a little worried right before the screen cut to black? Doesn't matter, we all know Finchel is the endgame, right?
Also, who got goosebumps when Finn reached out and cupped Rachel's face during her rendition of "Without You?" In high school, our boyfriends only passed us notes. We were ripped off!
Wemma Found Love: Perfect song choice, right? It's been three seasons of back and forth and John Stamos, but Will (Matthew Morrison) finally put a ring on Emma's (Jayma Mays) obsessively clean finger. And while we loved the big synchronized swimming number to Rihanna's "We Found Love," there was something so endearing about just Will and Emma walking down the hall together, holding hands, with people giving her flowers as the song played. Even Sue had a flower! She was very sweet this episode, by the way. Her scenes with Becky, especially the last one, were wonderful.
The synchronized swimming portion could have been unbearably cheesy if the kids didn't look like they had an absolute blast filming it. That made it perfect. And who knew Mr. Schue could walk on water? Oh, and Emma said yes. Time to plan a Glee wedding! And make babies! Or maybe they should have sex first…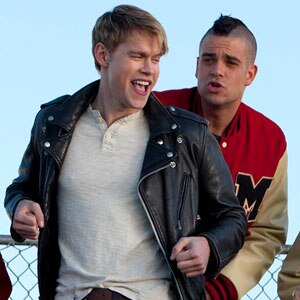 Beiste Ends Up With the Right Man, While Mercedes Is With the Wrong Man: What started the whole Will and Emma becoming betrothed thing was Coach Beiste (Dot Marie Jones) announcing that she and Cooter eloped over the Christmas break! And you might scoff at the idea of her proposing at Taco Bell, but those caramel apple empanadas are delicious! So, that Sue-Cooter-Beiste love triangle is dead and gone, but a couple of new ones are catching fire.
Mercedes (Amber Riley) and Sam (Chord Overstreet) treated us to "Summer Lovin'" from Grease, but it turns out, it wasn't just a summer fling. When the girls of Glee club were singing "First Time Ever I Saw Your Face," Mercedes did not picture her current boyfriend, Shane. No, no. She pictured the first time she saw Sam's face. Samcedes isn't going down without a fight, y'all!
Quick question: Since Artie (Kevin McHale) shot down Becky (Lauren Potter) and gave her the "let's just be friends line," will this still count as a love triangle? Will Artie still go after Sugar Motta (Vanessa Lengies)? We hope so, because we adore that crazy chick.