Glee's New Big Bad Ready for Santana Showdown! Plus, Will He Be the End of Klaine?
Tuesday, January 10, 2012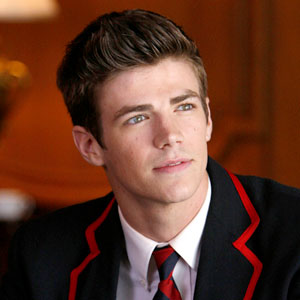 While
Chris Colfer
may be campaigning for Kurt to knock out Sebastian (
Grant Gustin
) on Glee, it seems like another character is cutting in line to take a swing at the Fox hit's new bad boy.
We caught up with Mr. Gustin, who is poised to become a series regular in season four, who tells us McKinley's resident mean girl Santana (Naya Rivera) will be paying Sebastian a visit over at Dalton soon and it's not to ask for hair advice. Then again, it's not all bad: their showdown will lead to the sure-to-be epic "Smooth Criminal" duet in the upcoming Michael Jackson tribute episode.
So why is Santana calling out Sebastian? And is Sebastian still eyeing to replace Kurt as Blaine's (Darren Criss) boyfriend?
Prepare for the clash of the Glee titans when Sebastian and Santana go head-to-head as both characters are known for their mean streaks and biting one-liners. So what brings these two together? "I'm a little bit of a bad boy and I inflict pain on somebody," Gustin teases. "She comes to give me a piece of her mind. She comes to Dalton and 'Smooth Criminal' happens." Two words: Love. It.
While Santana and Sebastian may not get along, Gustin tells us his duet with Rivera "was so much fun" and says it was his "favorite day of filming so far."
The upcoming tribute episode seems like it may be Gustin's true breakout moment on the show, similar to Criss' career-changing "Teenage Dream" performance. Other than "Smooth Criminal,"
Gustin performs two iconic songs with the Warblers. "We do 'Bad' in a parking garage, which is so cool. It's like filming the music video. We were watching the music video as we were filming out
," Gustin says. "The song hasn't been released yet, what we're doing, but the Warblers are doing a Jackson 5 number."
While he wouldn't tell us which Jackson 5 song, he did say his mom freaked out when she learned he was performing it. "When I told my mom what song I was doing, she literally fangirled! I am so, so excited for that number. I can't wait to see it."
While he'll will be plenty busy with his musical numbers in the M.J. episode, Gustin tells us Sebastian won't be getting busy with Blaine anytime soon. "Sebastian's slightly pulling away from Blaine. It's not necessarily over, but there's a different dynamic coming in this next episode—a little meaner, a little less flirtatious." When we asked if Sebastian could be attempting to play hard to get, Gustin nixes the idea, saying, "Maybe, but it doesn't necessarily feel like that to me."
For most actors, it would be pretty intimidating to come into a show with a rabid fanbase and play a character threatening to split up one of the shows most popular couples. Luckily, Gustin says he was semi-prepared for fans to hate him. "I didn't know what to expect. Darren and Colfer kind of got me ready for it. They were like, 'People are going to hate you, but at the same time people are going to love you,' " he explains. "It's been true. People love me for being an asshole, but legitimately I get death threats of like if I break up Klaine I'm dead! The fans have been amazing. They're intense in the best way possible."
Gustin understands some fans' dislike of the character, telling us Sebastian is "a lot of fun" to play, but "I know a lot of people hate [him]. I would too if I wasn't playing him, but I kind of do even though I am playing him!"
Fans may start to hate Sebastian even more after hearing this next tease: "I do some slushying," Gustin tells us when we ask for some scoop beyond the M.J. episode. "
I slushy two people!
"
And to answer your most pressing question: yes, Gustin is totally down with the idea of releasing his own cologne Eau de Craig's List after Kurt's infamous putdown of Sebastian in the coffee shop. "I would have to figure out exactly what that would smell like, but if we could harness it, I'm open to the idea!"