How Hot Will Lea Michele Be at the SAG Awards? Inside Dish on Her Next Red Carpet Look!
Friday, January 27, 2012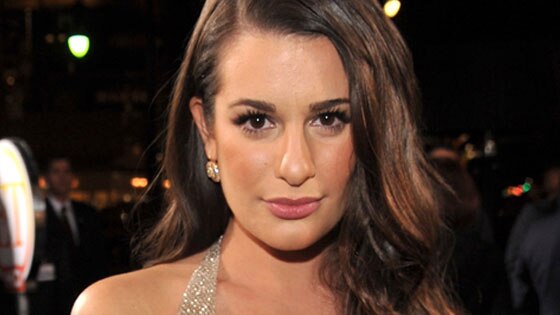 From her People's Choice victory to her sultry style at the Golden Globes, Lea Michele's been a red carpet knockout so far this season. But what will she do next?
We tapped celebrity makeup artist Melanie Inglessis to find out. Inglessis, who also works with Olivia Wilde, Mia Wasikowska and Jaime King, has been doing Lea's makeup since they met at a Glee event three years ago. "We went really natural and beautiful then."
So we asked her to share Lea's favorite look—smoky eyes or hot lips?—the secret to looking great on the red carpet and what style the Glee star might rock this weekend at the SAG Awards...
How do you decide what look Lea is going to rock on the red carpet?
"We wait to see the dress first. This will dictate the look for hair and makeup."
She's gone from bright pink lips to neutral with a major smoky eye for the Golden Globes. Has there been one look that you loved more than the others?
"I really loved the Grammys look two years ago, smoky dark grey eyes and straight hair with that short navy feathery dress."
"She likes them all! Everytime we finish a look it's her favorite! She really liked the pink lip at the People's Choice Awards and also the New Year's Eve premiere bronze goddess look."
Can you give us a hint of what you might do for Lea's makeup at the SAG Awards?
"I don't have any ideas as I have not seen the dress yet. But it's not last-minute—we normally know a couple of days early what she'll wear and will discuss."
Do you work it out with her wardrobe and hair stylist?
"It is a collaboration between all of us, including Lea. It's a fun process, for sure. The dress really is the starting point for discussion. Once we know the dress we have a little powwow and pull reference.
What helped you decide on the natural look she wore with that stunning green dress at the SAG Awards in 2010?
The green dress was such a stunning color and with a beautiful cleavage that I really didn't want to distract from that. I wanted to keep it youthful and fresh so we just went with a natural makeup. Any colors would have clashed with the emerald colored dress.
For SAG 2011, Lea wore that stunning white-gold dress. As soon as she tried it on, we all agreed it was a stunner. It had a '70s feel, Jade Jagger, Studio 54. Really sexy. So we decided on a small smoky eye, not too dramatic but still defining her eyes and bring a little sexy into it. Lot of contours and bronze and, of course, a nude lip!
Is there one makeup trick you can share that would make anyone look good on the red carpet?
"Make sure you are not shiny on your T-zone! And a little peach color on the apple of your cheeks always does the trick for me! With a lip, with a smoky eye! It just brightens the face."
What about making the look last all night?
"I always send my clients on the red carpet with a powder and lipstick and whatever else she feels she needs so she can retouch the makeup for the afterparty!"
What would you do for Rachel Berry if she got her big red carpet moment?
"Make her really sexy!"