Will Dianna Agron Return to Glee? Costars Dish on Her Season Four Fate
Wednesday, January 18, 2012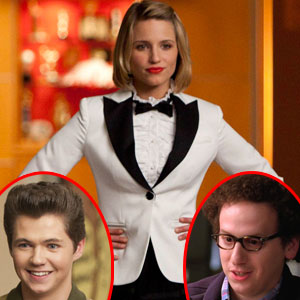 Gleeks rejoice, 'cause we're totally talking the fate of Dianna Agron's Quinn Fabray.
And for those of you behind in the season four game, Lea Michele, Cory Monteith, Chris Colfer and Naya Rivera have already announced their return.
So when we caught up with Damian McGinty (who told us he chats with Dianna "all the time") and Josh Sussman this weekend, we had to ask about Agron's fate:
Let's start with Damian.
Since the adorable dude told us Dianna is like his "American sister," we were sure he would have some inside scoop—after all, what kind of besties would they be without spilling some season four secrets, right?
"No...I haven't asked her if she's coming back, so I don't know," he told us at the pre-Golden Globes event by Screen International Magazine & Silverspoon Lifestyle Friday night.
Hmm, we're a bit suspicious of the roundabout answer. The costars seem tight as could be and we highly doubt Dianna hasn't at least mentioned whether she wants to return?
But he did add some scoop that may make Quinn fans a bit nervous:
"Ryan [Murphy] is really cool about cast members doing other things...You know some of them have done this for three years now," he explained.
Doesn't sound good for Miss Di, but dare we say Damian was hinting the beloved blonde doesn't want to return?! We'll admit Dianna's got other projects comin' her way—there's her
You Me & Charlie site
and her independent flick The Hunters was just released, but should Di pass an opportunity on the role that put her on the fast track to fame?
We've reached out to Dianna's rep to ask whether we can expect Quinn on the boob tube next season, but have yet to hear back, so we'll keep you posted.
As for Josh? He had a little more hope for Quinn when we caught up with him on the NBCUniversal Golden Globes red carpet:
"You never know, she's so great they might want to make her a junior to have her another year!" he squealed.
And while Josh seems more optimistic about Dianna's fate, he did have a different pick for the next Glee movie star:
"I think Lea will be a movie star. She's already been a Broadway star, now she's a TV star, so movies seem like the next step," he gushed.