3x14 "On My Way" Round Up; Young the Giant & The Wanted talk Glee +Additional Stills & BTS Photos!
Sunday, February 26, 2012
Glee Wedding Dress: Rachel Berry's Audrey Hepburn-Inspired Look
Lea Michele's character Rachel Berry headed to the courthouse to marry high school sweetheart Finn Hudson (Cory Monteith) on last night's Glee episode—and we got the inside scoop on her bridal look! The '50s-inspired tea-length dress and veil are custom pieces created by the Glee team in collaboration with Patricia Nevil of the L.A. bridal boutique L'ezu, the show's costume assistant Mojdeh Daftary explained to InStyle.com. "We were very happy with the episode last night," Daftary told us. As for the inspiration, they looked to an icon: "We used Audrey Hepburn's wedding dress in Funny Face as inspiration for Rachel Berry's dress." The similarities are clear!
The Glee Bridesmaids' Look: Target and Ivanka Trump!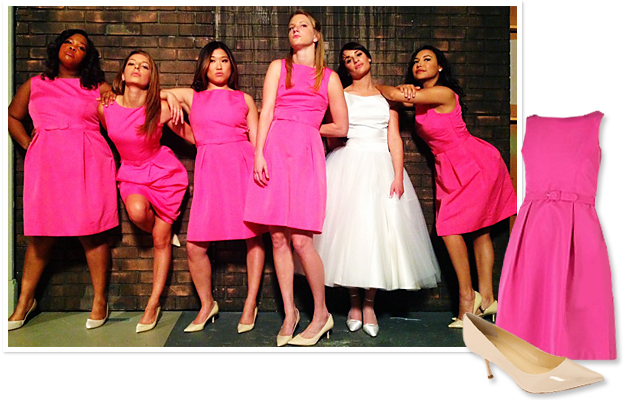 Glee fans geared up for the Rachel Berry (Lea Michele) and Finn Hudson (Cory Montieth) wedding during last night's episode, and we were excited to see what the type-A Rachel planned for her big day. Thanks to the researchers at
fashionofglee.tumblr.com
, we know the hot pink belted bridesmaids dresses that Mercedes (Amber Riley), Sugar (Vanessa Lengies), Tina (Jenna Ushkowitz), Brittany (Heather Morris), and Santana (Naya Rivera) wore are from the
Merona Collection
at Target, and they accessorized with ivory pointed-toe heel by Ivanka Trump. It's nice to see the costume designers kept the look budgety-friendly and high-school appropriate—the dress sold for $40, though it's no longer in stores, and the patent pumps are available for $120 at zappos.com. Sadly, with Quinn's (Dianna Agron) accident, the "I dos" never happened. Here's to hoping they'll pick up where they left off when the show returns in April!
Young the Giant Happy With 'Glee' Moment
The members of Young the Giant wrung their hands a bit about having their single "Cough Syrup" used in the latest episode of "Glee." But the group was satisfied with its placement in a poignant and (somewhat) surprising suicide scene.
"I don't think we ever had the intent of the song... in such a serious scene," YTG frontman Sameer Gadhia tells Billboard.com. "It's very, very intense, very, very impactful, and we most definitely empathized with that. All of us have been victims of bullying -- and been bullies at some point in time. It's something that hits everyone."
Gadhia says the California quintet did have to think a bit about whether to grant permission for the series to use "Cough Syrup," however. "Obviously there is that initial feeling of, 'Oh yeah, it's Glee,' and none of us watch 'Glee' and there are some problems with that," he explains. "But at the end of the day I think we're happier people are watching something that's music-based. There's so much bulls*** on television. I mean, there's 'Jersey Shore,' y'know? With 'Glee,' there are a lot of people that it really strikes a chord with and they feel emotional about it and it appeals to them enough to watch it every week. There's nothing we can say about that. We're open for all applications for the music...and just excited and gracious and happy that people want to use our stuff."
Creating more "stuff" is on top of YTG's agenda right now. Its self-titled debut album has been out since October of 2010 digitally and January of 2011 physically, and Gadhia says the group is chomping at the bit to add to its discography. In fact, the band members even holed up together in a house in East Los Angeles before its current tour to do some songwriting.
The Wanted Call 'Glee' Cover 'Surreal'
When artists hear that they're getting the "Glee" treatment, the news is met with excitement or disdain (you know, if you're the Foo Fighters or Kings of Leon). So when British boy band the Wanted got the call that their single "Glad You Came" was getting covered on the show this week, bandmate Tom Parker explains that they fell stoutly into category #1.
"I thought it was absolutely great, and it was the first time I had seen a dance routine put to the song," he laughed to MTV News on Wednesday morning (February 22). "So it was really strange actually, 'cause obviously we don't dance. I rang up the boys, like, 'Boys, maybe we should start dancing because actually it looks really good.'
"[Our manager] Scooter [Braun] rang us up, and he was like, 'So your song's going to be covered by 'Glee,' ' and if you could have measured the level of noise in the car at that very time, some might call it deafening, we were screaming so loud," he continued. "I couldn't even believe it. It's an honor really to do something like that. I think it represents [that] the song's a really good song. To be honest, it's all a bit surreal."
The episode itself touched on some very serious topics, including teen suicide and bullying. The song was performed by the Warblers during Regionals, one of the more joyous moments this week.
And while Parker has yet to see it, from what he heard of the show, he can assume it was "quite action-packed." Parker missed the episode because he and the guys are busy on an arena tour in their native U.K. and Europe.
"You know, I have not seen it yet because we were coming back from France doing some promo," he said. "But I saw the Fox tweet [with] the link to the episode, so I saw the routine."
The song's inclusion on the show proves that the Wanted, who just wrapped up their first-ever U.S. tour, are certainly making an impact Stateside. And that works for Parker and his bandmates. "We always [had] that aim to go and do it in America," he said.
"Glad You Came" is the band's current U.S. single. It appears on their album Battleground.
Additional 3x14 Episode Stills
GLEE: Karofsky (Max Adler, R) is bullied in the "On My Way" Winter Finale episode of GLEE airing Tuesday, Feb. 21 (8:00-9:00 PM ET/PT) on FOX. ©2012 Fox Broadcasting Co. Cr: Mike Yarish/FOX
GLEE: Karofsky (Max Adler) is bullied in the "On My Way" Winter Finale episode of GLEE airing Tuesday, Feb. 21 (8:00-9:00 PM ET/PT) on FOX. ©2012 Fox Broadcasting Co. Cr: Adam Rose/FOX
GLEE: Karofsky (Max Adler) is teased bullied in the "On My Way" Winter Finale episode of GLEE airing Tuesday, Feb. 21 (8:00-9:00 PM ET/PT) on FOX. ©2012 Fox Broadcasting Co. Cr: Adam Rose/FOX
GLEE: Karofsky (guest star Max Adler, L) is saved by his father (guest star Daniel Roebuck, R) after trying to commit suicide in the "On My Way" Winter Finale episode of GLEE airing Tuesday, Feb. 21 (8:00-9:00 PM ET/PT) on FOX. ©2012 Fox Broadcasting Co. Cr: Adam Rose/FOX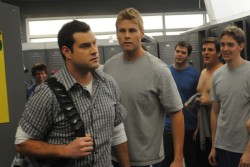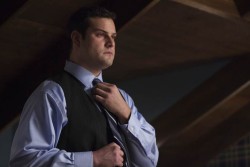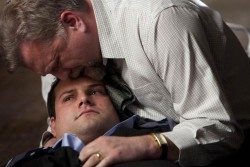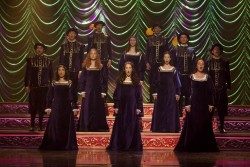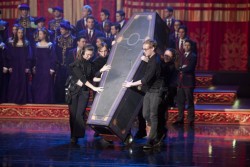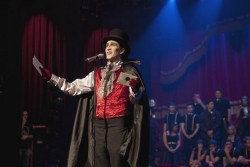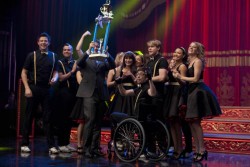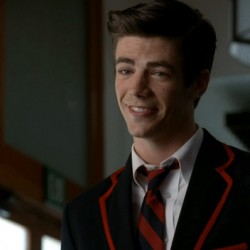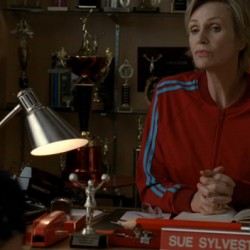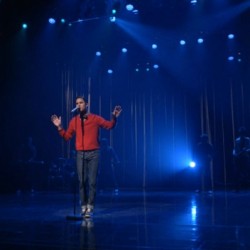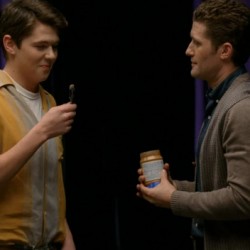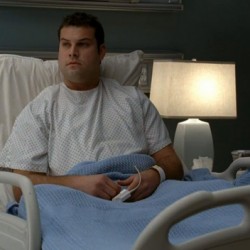 Episode Recaps and Reviews: