Glee Instant Scoop! We're Watching the Ricky Martin Episode and Spilling
Friday, February 03, 2012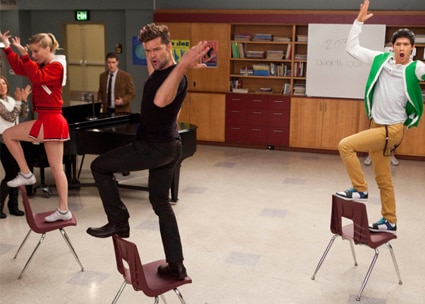 Get ready for some serious bon-bon shakeage, people!
Ricky Martin hits Glee this Tuesday night on Fox, and I just got my grubby little hands on a screener of the episode. Come watch with Kristin, will you? I am liveblogging scoop from the episode as I watch it right now (posting updates as it unfolds). Here are the highlights you diehard fans need to know, and I'll also answer your burning questions...
OK, Matthew Morrison is wearing a goofy, enormous sombrero and singing "La Cucaracha," once again proving he is so not the cocky manwhore of yesterseason and markably more adorkable this year. Emma Pillsbury, I applaud you and your affect on this man!
Principal Figgins is reading Will the riot act, telling him he needs to at least learn Spanish if he is going to teach it, and if he wants tenure. There is one tenure spot open at the school now. So Will is heading to learn Spanish at a class helmed by...
A super Mystic-tanned John Stamos! Wait, no, that is an extremely good-looking Ricky Martin, and let's hope this ridiculously hot guest star keeps his paws off Emma. (BTW, I just saw John the other night and he said there are no plans for him to return to Glee...I know. You Will and Emma fans are heartbroken.)
And holy crap. Guess who just hit up a sperm bank?
From @dayecarter: While you're watching don't forget to play the worst drinking game ever - take a shot every time Brittany speaks.
Tequila shot in hand. So far I am totally sober.
Sue! Sue tells Will she totally wants to have a baby and froze her eggs in the '70s. I am concerned for the human race.
And ohhh wow. Sue wants Will's sperm.
Ricky Martin enters the choir room, to help with this week's assignment: To sing a song from someone of Latin descent.
Let the record show: Ricky Martin is hotter than ever. His performance of "I'm Sexy and I Know It" pretty much ensures an Emmy nomination. Gwyneth, take two. Might be the hottest number ever in that choir room, complete with Naya Rivera backside slap.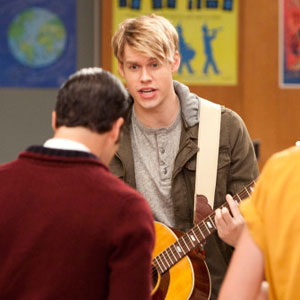 @ alelapazza1 finally!!!! is there a #finchel scene at all?
So far just them looking all hot and bothered as Ricky sings. Cute, though.
Mercedes doesn't know how she feels about Sam. She's torn between two lovers, and Sam and Mercedes seek Emma's help.
Nene Leakes is back and she's putting Sue in her place about this whole having-a-baby thang. Nene and Jane are pretty great together. More please.
Kurt, Mercedes and Rachel in bed watching Twilight and eating popcorn. Kind of adorable.
@Gleekchic87 any talk of NYADA or Finchel engagement yet?
In 3...2...1...
Rachel shares her secret with the two, and there's an interesting Blaine/Kurt reference moment that makes it clear Kurt isn't ready for a step like Rachel and Finn are taking.
Chord Overstreet is surprisingly awesome singing Enrique Inglesias' "I Can Be Your Hero." He's got flavah!
Sweet Emma and Sue scene.
Kurt is confronting Finn about proposing to Rachel...
Fantastic scene with Cory Monteith and Chris Colfer in which Kurt tells Finn he can't give up on being more than the guy who holds Rachel's purse on the red carpet.
@ellemills2 tell me we have will and emma have an interaction in this episode!
Right now.
Emma is trying to help Will and...wow. Will is being a serious d-bag. "You're being really mean," she tells him. Understatement.
I could watch Ricky Martin and Naya Rivera perform together for the rest of my life. They are doing "La Isla Bonita" amidst laser lights and it's on fiyah. Also, we take back everything we presumed about her "chemistry" with Grant Gustin in the Michael Jackson episode. Apparently Naya is so smokin', she makes magical baby eyes with everyone with whom she performs.
Will Schuester is dressed as a Spanish matador singing "A Little Less Conversation" and I'm not sure if I'm supposed to be laughing out loud, but it's pretty hilarious.
Nicholas Michael: Anything on Quinn in this episode? Or is she a background character for now on?
She's in the background. Most of this episode is about Will, and a little Santana, Emma, Rachel, Finn, Mercedes and Sue. But Dianna Agron is defintely there and we know she's shooting til the end of this season (at least) despite her "sendoff" last episode.
Santana tears Will down, then builds him up again.
Will discovers in this episode that teaching Spanish is not his passion, and brings Ricky Martin into the fold at McKinley High. Here's hoping he discoveres a passion for How to Respect Your Woman next.
No. Very little Finn and Rachel. Lots of Will and Emma.
Mercedes doesn't choose Sam. She goes off with her current football boyfriend but it's clear she still has feelings for Sam.
And ladies and gentlegleeks, WIll totally redeems himself in the last scene.
Can't spoil the very end, but it'll tug on your heart (and apron) strings. WIll and Emma fans will swoon.
Nope. Now what am I gonna have for breakfast?
@KingsWater So sweet Britt-Britt doesn't talk at all again in this ep? :-(
Unless I missed it, no. But as Mike Schur just told me of The Office's Mose: A little Brit goes a long way, right? She has some great dance/comedy moments in this episode. And as you know, we'll be getting a lot of Brittany and Heather Morris in the Valentine's Day episode, as they are set to "make out".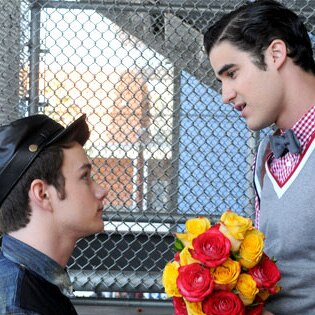 @vrstovall So did the Kurt/Blaine reference mean trouble ahead for the two lovebirds? Also, is Blaine's surgery mentioned?
No, there is no trouble at all. Rachel is just pointing out to Kurt that he might have hesitations too if Blaine were to propose right now. Blaine isn't in this episode besides that reference, because Darren Criss was off doing How to Succeed on Broadway.
@Sadnesshere Does it sound like Klaine will break up then? Kurt doesn't think he and Blaine will last?
Not at all. Guys, there is nothing to be concerned about regarding Blaine and Kurt that I am aware of! Sorry to have concerned you. It's just a tiny little moment and ain't no thing but a chicken wing. Promise.
@Saranoh2009 Could you give us a clue about the Will/Emma moment at the end?
Fox asked us not to reveal what happens at the very end. It's nothing shocking or anythhing, but it is a very sweet Will and Emma moment that made me take all the pins out of the Will Schuester voodoo doll I crafted halfway through this episode.
Nicholas: This seems like a very funny episode, like the good old Glee. Does it feel like that?
Yes. Loving the Jane Lynch/Nene Leakes interaction (lots of funny Sue stuff) and there are some great comedic moments elsewhere, too. But it's also super sexy/caliente! Perhaps the sexiest episode so far this season. And heavy on the Will and Emma stuff, so fans who've been missing Jayma and Matthew this season will dig it. Also, the door is definitely left wide open for Ricky Martin to be back (repeatedly), and I'm all for that after seeing this episode.