Glee Wedding: Vera Wang to Design Emma Pillsbury's Wedding Dress? +Spoiler & Set Picture!
Tuesday, February 28, 2012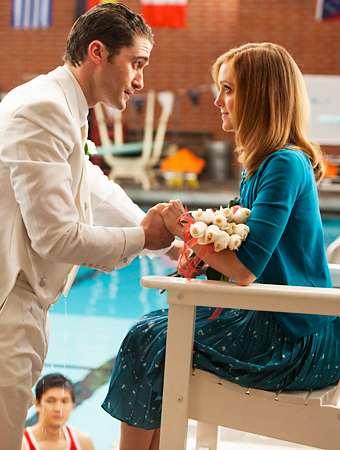 Will Shuester (Matthew Morrison) popped the question to Emma Pillsbury (Jayma Mays) on Glee earlier this month, and we caught up with Paul Breuninger, the show's prop master, to give us the inside scoop on Emma's wedding dress.
"
Ryan Murphy (Glee creator) met with Vera Wang, looking at a pink frilly dress for a future episode
," Breuninger hinted. "
If it's chosen, it'll appear in the next couple of weeks
."
The prop master then added: "Yes, I think Vera Wang would be the place for Emma's dress." We can't wait to see it!
Lily: Something on Glee, please! Wemma news perhaps?
The Finchel wedding may be postponed due to Quinn's (Dianna Agron) tragic accident, but sounds like Will (Matthew Morrison) and Emma's (Jayma Mays) wedding will be staying on course. Someone is meeting with a wedding planner, and it sure sounds like it's Wemma. May wedding, anyone? Right in time for sweeps?