Lea Michele in Talks for Spring Awakening Movie!
Friday, February 10, 2012
Is Lea Michele gearing up for another Spring Awakening?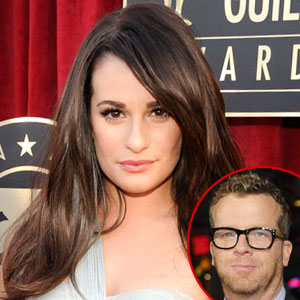 We are so excited to exclusively report that the Glee gal could be reprising her role from the hit Broadway musical in the upcoming movie adaptation.
"We're talking to Lea Michele because she made the role of Wendla famous and we'll see if that pans out and works with the timing of her schedule on [Glee]," the flick's director, McG, told us last night at the Hollywood premiere of his new romance action flick This Means War.
The show, which won eight Tony Awards and is based on an 1891 German play of the same name, centers around a group of teenagers dealing with topics including abortion, rape, suicide, masturbation and even some S&M. (Glee, anyone?)
"I love Lea; we've talked about it," McG said. "When I first got turned onto the show she was in it so it's her voice that echoes in my heart. I really think she's wonderful and we'll see where it takes us."
McG said Spring may be his next film project. "It's very similar to the [stage] production," he said. "We're probably going to shoot it in Eastern Europe and it's a very true adaptation of what it is with a little Baz Luhrman thrown in."
UPDATED:
Lea Michele responds to 'Spring Awakening' movie rumors


Spring Awakening fans, don't get your hopes up just yet. But don't get them down, either?
Despite widespread reports that hit the Web over the past 24 hours, Glee star
Lea Michele is not currently engaged in talks to reprise the role she originated in the Broadway production of Spring Awakening in an upcoming film adaptation, a rep for the actress confirmed.
However, in a statement released exclusively to EW, Michele said, "Spring Awakening is so special to me, as is the character Wendla. We have discussed this as a possibility, and we'll see what happens."
The story originated yesterday when the film's director McG (Terminator Salvation, This Means War) told E! Online, "We're talking to Lea Michele because she made the role of Wendla famous and we'll see if that pans out and works with the timing of her schedule on [Glee]." As it turns out, those talks happened long ago, and the project has been relatively quiet since — but now that there's so much buzz and interest on both sides, it may soon find itself picking up steam.
"There were initial talks about this project," said Michele's rep. "However, there is nothing confirmed at this time."
In the film, Michele would reprise the role of Wendla, a part she created in the early workshops and original off-Broadway production of Spring Awakening before it transferred to Broadway in 2006. (She even turned down an offer to play Eponine in the Broadway revival of Les Miserables that same year, opting to stay loyal to Spring Awakening instead.) The show went on to win Best Musical at the 2007 Tony Awards and jump-started Michele's red-hot career.
The musical, which tells the story of German teenagers discovering their sexuality in the late 19th century, has been rumored to come to the big screen since it closed on Broadway in 2009. McG is attached to direct the film via his production company Wonderland Sound and Vision, which is developing the movie-musical, but at the present time, no studio has greenlit the project just yet.