What Lies Ahead: Samuel Larson on McKinley & Sue wants a baby storyline? Ricky will be involved with that too!
Wednesday, February 01, 2012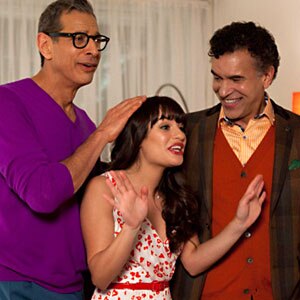 Mr. and Mr. Berry:
Finally, we get to meet the two men who raised the one and only Rachel Berry. Just check out your first look at Jeff Goldblum and Brian Stokes Mitchell as Rachel's two dads, Hiram and Leroy.
They'll be guest starring in the Valentine's Day episode, and thankfully, we'll be treated to a daddy-daughter number just in time for V-Day.
And rest assured, Klaine fans,
Darren Criss also will be in the Valentine's Day episode.
He won't be around as much as you'd probably like, but what counts is that his lovely face will grace our screens come Feb.14.
Samuel Larson Descends on McKinley High:
The Glee Project winner has started filming his guest role, and although Ryan Murphy had previously
stated that he might be playing a relative to Puck, we're hearing things have changed. We hear that people on set were really surprised by Larson, but we don't know if they were surprised by his talent or by his character
. Back in the summer, after he already knew he had won, but before the world knew, Larson told us he'd like to play the janitor who also happens to be great rock singer. Well, we don't have to wait much longer to see his dreads in action.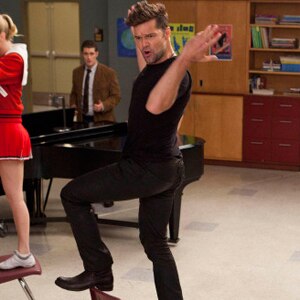 Shake Your Bon-Bon:
We welcome anything that invites hottie Ricky Martin onto our television screens, so we're very much looking forward to next week's episode "Spanish Teacher." Just-released photos have the pop star looking better than ever, and trust us when we say that everyone, and we mean everyone, will be crushing hard on his character, David Martínez.
Oh, except for Mr. Schue (Matthew Morrison). Better brush up on your español, gang, because sometimes subtitles won't be there to help you. Oh, and the Sue wants a baby storyline? Ricky will be involved with that, too.