Dianna Agron Round Up
Sunday, March 11, 2012
Dianna Agron tumbls about Kony:
I'm a little jet-lagged. I am also a little spoiled. I have recently returned from one of the most glamourous trips that I have been on. I am still buzzing from it. I keep trying to take a nap, but one thing was stopping me. Yesterday, while on twitter for a matter of minutes, yesterday's only connection to the rest of the world, the world outside of Paris fashion week, I saw #STOPKONY. I didn't know what this meant, but as it was my last of two days in Paris, I returned to being present, but vowed to clue myself in today upon my return.




To everyone reading this. PLEASE WATCH THIS. All thirty minutes. While you do so, I beg you to give this video your undivided attention, and then write down how it makes you feel. Then decide what you would like to do about those feelings.



I couldn't hold back tears while watching this. I love Jacob's smile and I want him and his community's injustices to be rectified. I'm happy that Jason is passionate for a cause. Gavin is incredible. The honesty and truth that you receive through a child's mind is absolutely motivating and inspiring. Again, please watch this.



Don't feel powerless to communicate your passions. Something I've learned over the years. It doesn't matter if it is one person, two people, an entire community of Facebook, Twitter, you name it…people are listening. We forget the power of "the littles." A little effort from this source, that source….it all goes a long way. Moves mountains. Don't you want to move mountains? Stand up for something good? What are you going to stand for? Make it something you believe in.



I believe in hard work. And love. And compassion. I believe people like Jason and Jacob can make the seemingly impossible, possible, if passion is true. When I watch a video like this, I feel guilty. Like I said, I was just in Paris, experiencing the beauty that is fashion, and art. If you are not free, none of these things matter, or exist. Because of what I do, I can experience these things. But ALSO because of what I do, I have more ears than ever before. So, if you can, as soon as possible, sit through this. I am so fortunate to have the ability to go back and forth into many circles, opportunities, and circumstances. If I had the luck and privilege of yesterday, I must also talk about KONY. Say that this is something I think is important to know about. Let's all find our balances, let's all find our voices. Lend yourself to help others. WHAT CAN WE DO FOR THESE PEOPLE?



Wether it is through http://www.invisiblechildren.com.s3-website-us-east-1.amazonaws.com/ or not, it is best to be educated on matters of the world. How did I not know about this? There are so many matters of the world that break my heart and make life seem so dismal. But there is so much TO live for. Wouldn't it be nice TO see a change? Find and spread the best information that you can. And think to yourself, do I have something to give? We are not as little as we think we are. Especially when challenged by something that could be great. What will you get behind this year??? This video helped me see a new problem that I didn't know about and I will take time to look into it further. It's making me think…
Watch the video now:
Dianna Agron arriving @ the Louis Vuitton show
Women's Wear Daily Artcile
Dianna Agron visited Paris for Fashion Week. Women's Wear Daily has a short snipet of a chat with her:
The "Glee" star has been fielding non-stop questions about the fate of her character on the show, after the cliffhanger season finale in which Quinn Fabray is involved in a car accident. Agron appeared to suggest she wouldn't be back. "

I don't know, it's just been such a thrill and a joy, and I miss it.

I always say whenever the last day is, if it's happened or not, because you know, they want me to be very hush-hush, I think the moral of the story is, this is what I've grown up with and this has really been my entry way to this whole career," she said.
Dianna Agron attending the Louis Vuitton - Marc Jacobs: The Exhibition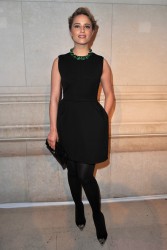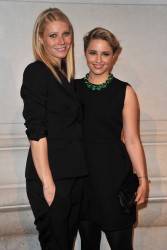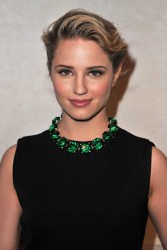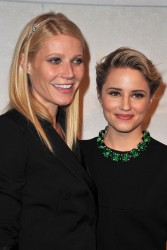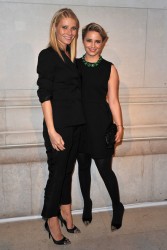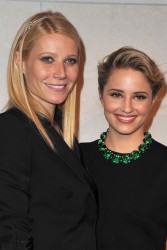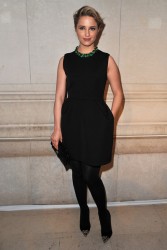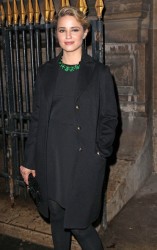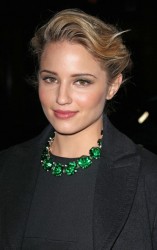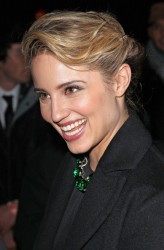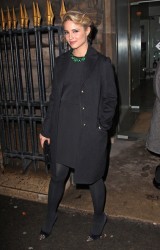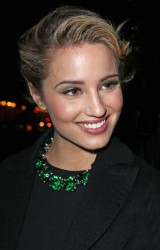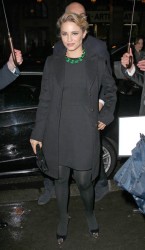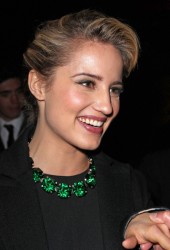 Dianna's interview @ Louis Vuitton
Best Dressed: Dianna Agron in Louis Vuitton
Sometimes, you don't want to be edgy or cool or "directional" - You just want to be pretty.
In such cases, take a cue from Dianna Agron, seen here outside the Louis Vuitton show, this morning in Paris. Agron pairs a sweet black-and-peach dress with sparkle-toed kitten heels, deep purple nail polish, and rose lipstick.
Also, if you look closely at her black coat, you can see it has a black-and-white checkered lining, which looks very cute against the black-and-pink colors of the dress.
You can put a similar outfit like this together in a few minutes - So not only is this a "pretty" look, it's also incredibly practical for those days when you oversleep!
source