Lea Michele & Cory Monteith: Real-Life Romance on the Rocks?
Tuesday, March 13, 2012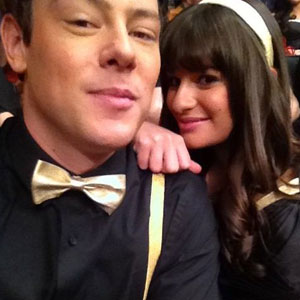 Lea Michele and Cory Monteith are very much still on.
Despite reports that the Glee stars' real-life romance may have it a snag because of a recent rumor that Mr. Monteith cheated...
"It's not true," a pal tells me. "They're actually doing really well. They're really happy."
There was some buzz on the web over the last few days that Monteith was seen kissing another gal during a weekend snowboarding trip after he spent Valentine's Day with Michele.
"It's so stupid," the pal said. "They're really into each other. Cory took Lea to [his hometown] Vancouver! He is so not cheating on her."
In fact, another source spotted the lovebirds just the other night at L.A. restaurant Pace having a romantic dinner.
The two have never confirmed or denied they're together. They began dating earlier this year after Michele and her longtime boyfriend Theo Stockman called it quits.
Here's hoping Lea makes it to New York on March 24 for the GLAAD Media Awards—they're being cohosted by Cory and one of her besties, Naya Rivera.