Glee Recap: A "So Emotional" Tribute!
Wednesday, April 25, 2012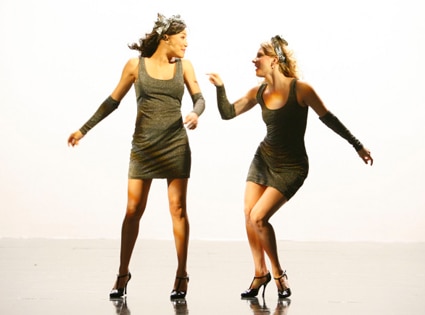 So emotional indeed!
Glee brought out the big guns to honor a very big voice: Whitney Houston. And we're not just talking about "big guns" in terms of the great musical numbers. Glee made sure to hammer home the point that the seniors were graduating soon, but did they really have to put one of their core couples on the rocks to do that?
Whitney Brings Out the Issues:
Glee did something new this week by using songs to help its characters express how they felt. Wait, that's something they do every episode. But it was special this time because it was all Whitney songs, and it wasn't just about love songs between the couples on Glee. It was also about acceptance, moving on and dealing with graduation. But there was some love in the air during the episode. First with Brittany and Santana on "I Wanna Dance With Somebody," (loved the lyric change, btw!) and then with our darling Quinn and Hippie Jesus.
Quinn (Dianna Agron) and Joe (Samuel Larsen) expressed their chemistry with "Saving All My Love For You," and if that lingering look at the end of the song was any indication, things are going to heat up before they cool down between those two. Like Quinn said at the end of the episode, this is the start of something new. Wait, did we just switch over to High School Musical? Damn, we just admitted to watching HSM. Let's move on.
Wemma Wedding on the Way: Wasabi is totally Mr. Schue's color! Will (Matthew Morrison) spent the whole episode making sure the wedding was planned for the season finale May, but then we got the real story behind his date obsession. Will wanted to make sure his New Direction seniors were at his wedding, because they "changed his life." Aww! His wife-to-be convinced him that they would come back if they had a wedding in November, which means...New Directions reunion episode in season four!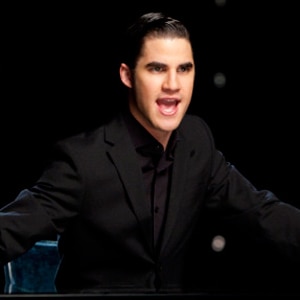 Kurt and Blaine in Trouble: Say it ain't so! OK, for a while we thought it was so, but Kurt (Chris Colfer) and Blaine (Darren Criss) patched it up in the end. We told you that messy conversation was coming, and even though Blaine told Kurt he was "the love of his life," and Kurt dedicated "I Have Nothing" to his boyfriend, we still think those two aren't done completely figuring out their post-graduation relationship. Skype sounds like a great plan, but can those two really make long-distance work? Or are we just being love cynics?
Seniors Start Their Goodbyes:
It's really happening. As much as we keep denying it, Rachel, Kurt, Finn, Santana, et al. are graduating, and soon. This episode was just the start of the emotional goodbyes, but our favorite little storyline was Rachel (Lea Michele) and Santana (Naya Rivera) singing together and recognizing that they hated each other for most of high school. Also, we are dying to see the guys use Puck's shot glasses for real and have a bromantic goodbye party. Anybody else want that scene to come to fruition? But the most telling moment came at the very end of the episode…with Kurt shutting the locker. Ominous!