Glee Recap: Who Got Burned by a Disco Inferno?
Wednesday, April 18, 2012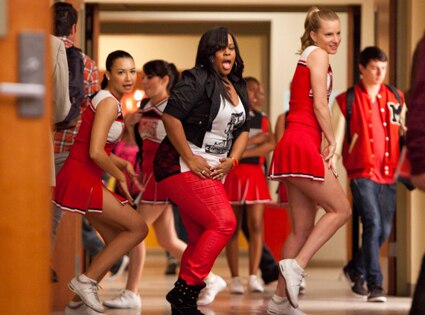 "They should change their name to No Directions."
Voice-over guy, you crack us up, and you set the perfect tone for this week's episode. A lot of the glee kids are, according to Will, lost little lambs. Specifically Mercedes, Santana and Finn. Oh, and we saw The Groff for 2.5 seconds and it was glorious. By episode's end, those three New Direction-ers had a much clearer plan for their future...
Since "Saturday Night Glee-ver" focused mainly on Mercedes, Santana and Finn, let's break the episode down through those three:
Mercedes: Despite Will (Matthew Morrison) thinking she lacked vision, Mercedes (Amber Riley) insisted, via voice-over, that she did have a dream…she just didn't know how to get to it. After a killer rendition of "Disco Inferno," Mercedes bared it all for her New Directions buddies, revealing that she was too scared to move to Los Angeles, and didn't even know how to succeed as a singer out there.
Sam (Chord Overstreet) to the rescue! He secretly taped her "Disco Inferno" performance on his fancy cellular device and posted it to YouTube to show Mercedes how wonderful she was. And all the comments under the video were positive! Wait, on the Internet? That world does not exist, but it was a sweet move by Sam nonetheless. And thus, Mercedes got her strut back.
Finn: Poor, poor Finn Hudson (Cory Monteith). For most of the episode, he wallowed in self-pity about having no idea what he wants to do with his life. Welcome to the mind of every teenager in the country (and a lot of adults' minds, too). But when Finn went on a rant to Will about wanting time to stop, we couldn't help but feel bad for our gentle giant.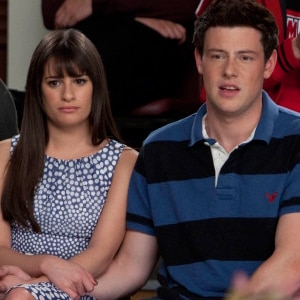 Will, Emma and Rachel (Lea Michele) to the rescue! They pushed him to figure out his future with pamphlets and brochures, which he promptly threw out. In the end, it was Rachel's belief in him and Will's guidance that led him to reveal what he really wants to do with his life: be an actor. Specifically, he wants to study acting at the Actor's Studio. So off to New York he plans to go, along with his supportive girlfriend who looked damn beautiful in the "More Than a Woman" number. And thus, Finn got his strut back.
Santana: Our fierce Cheerio knows exactly what she wants: fame. And she's not sure how she'll get it, but Santana (Naya Rivera) is a thousand percent sure she'll eventually be famous. But how does someone rocket from obscurity to notoriety in the blink of an eye?
Brittany (Heather Morris) to the rescue! Her sweet-but-dumb girlfriend released a sex tape featuring the two of them, intercut with Lord Tubbington, natch, because these days that's the quickest and easiest way to fame town. Understandably, Santana was upset about the video being leaked, but Brit made up for it by suggesting an alternative postgraduation route: a cheerleading scholarship to University of Louisville. Santana hasn't completely committed to the idea, but it's a start. And thus, Santana got her strut back.
Disco Isn't Dead: All the boogying during the episode sure was fun, but the disco was there for a reason. It helped Wade (Glee Project runner-up Alex Newell) let his inner woman shine, for one thing. And we got a flashback to high school Will, a dance contest to single out the students without direction, and some lovely duets between some core couples. But let's rewind to what's really important about this episode: Jonathan Groff finally returned to our Glee lives as Jesse St. James, the new coach of Vocal Adrenaline. Sure he was a huge asshat to Wade, Kurt (Chris Colfer) and Mercedes, but all that matters is that Groff's sweet angel face was on our TV screen, even if it was for but a fleeting moment.
Rewind Moment:

Sam's moves during "Night Fever." xx