What Lies Ahead: The Groff Cometh, Brittana Sex Tape & a new love triangle!
Wednesday, April 11, 2012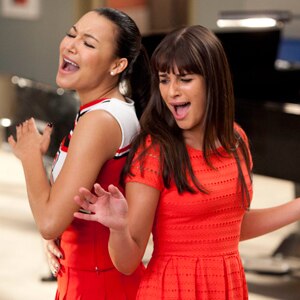 Glee returned last night after a 19-year seven-week hiatus, and we sure learned an awful lot. Quinn survived in the car crash, Finn and Rachel are in trouble and Matt Bomer's Glee character needs his own show about trying to make it as an actor in Los Angeles.
But what you guys really want to know now is what's coming up in the next few weeks, right? We got you covered…
WHAT LIES AHEAD
Quinn's Journey Is an Uphill Climb:
Remember that scene last night where Artie (Kevin McHale) pushed Quinn (Dianna Agron) to conquer that steep ramp?
That is pretty much a metaphor for Quinn's situation leading up to Nationals. She wants to dance onstage with New Directions, and Artie is going to do his best to get her there. But so will Joe (Samuel Larsen). No, Glee fans, you did not imagine the whisper of a love triangle starting.
Brittana Sex Tape: You also did not mishear the sex tape line in last night's promo for "Saturday Night Glee-ver." There is a Brittana sex tape floating around, according to Brittany (Heather Morris). But before people start planning their fan fiction based on that tape, please remember that it's Brittany "My cat is reading my diary" Pierce who is claiming to having the sex tape. Think about it. On the plus side, there are lots of good Brittana scenes in next week's episode.
Sue's Baby-Daddy: Jane Lynch recently told Ryan Seacrest that she doesn't know who the father of her unborn baby is, and maybe no one does! "I don't think Ryan Murphy has decided who the father is yet. So, it's this big mystery and this big secret, but I'm about three or four months along, so I'm showing." We hope it's Cooper Anderson, just to get Matt Bomer back on Glee.
The Groff Cometh:
We hear from our little spies that
Jonathan Groff is in Los Angeles and is set to start filming as his Glee return as early as next week.
Excuse us while we refresh the entire Internet until photos emerge.
Finchel Fireworks:
Finn (Cory Monteith) and Rachel (Lea Michele) fans, prepare for sparks between our lovebirds, both the good kind and the bad kind.
A resolution to their bicoastal issue is not going to come easy or quickly.
Gird your loins for some angst!