Glee Recap: Is It Over Yet? It Might Be for Some Seniors
Wednesday, May 02, 2012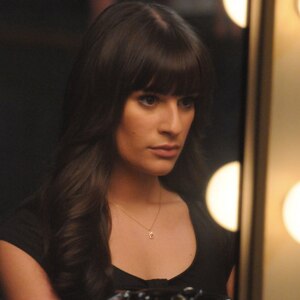 Tonight's episode of Glee was old school, and thus, it was one of our favorites of the season.
Not only did we get Emmy-worthy performances from both leading and supporting characters, but the show reminded us what it was best at by combining quirky comedic elements with heart-wrenching emotional storylines. Both Rachel and Puck saw their futures changing, possibly for good, while a McKinley High favorite revealed a dark secret.
Let's talk about tonight's near pitch-perfect episode…
Rachel Choked: She's been preparing for this moment for her life. Hell, Rachel Berry (Lea Michele) was born for this moment. And that moment was her belting out "Don't Rain On My Parade" for her NYADA audition. We've seen her do it, and she always kills it. And ten seconds into the number, it sounded like she was on her way to kicking that song's ass yet again…until she forgot the words. And then, when she started over to try again, she choked once more and sealed her fate. Judge Carmen Tibideaux (Whoopi Goldberg) told her the audition was over, and Rachel fell apart. What's next for our dear shining star, who was acting very season-one-esque the whole episode? Well, for now, she would cry. Which she did while singing a positively gut-wrenching version of Kelly Clarkson's "Cry." Is it over yet? It might be for you, Rachel. And Puck as well. Which leads us to…
Puck Has Daddy Issues: It took a visit from his deadbeat dad to finally teach Puck (Mark Salling) that he actually needed to graduate high school. It was important that he never turn out like his old man, and all he had to do was pass his geography class. And that meant more bromantic times with the boys of glee club. Can we just reiterate how amazingly awesome those scenes are when the whole group of guys are together hanging out? Is a spinoff brewin'? Probably not, but we love it nonetheless. Oh, and Rory was there, too. Hey, Damian McGinty! Unfortunately, after a marathon study session with his dudes, Puck still failed his exam. Sometimes those study montages just don't work.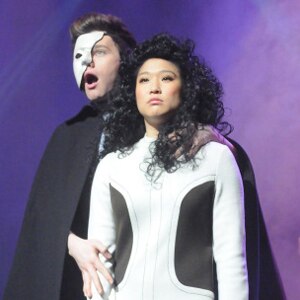 Beiste Is in Trouble: This episode didn't just focus on the high schoolers' issues, the adults were dealing with heavy stuff, too. Our beloved Coach Beiste (Dot Marie Jones) revealed to Sue and Roz that Cooter was abusing her. It's a horrid situation that Glee handled quite well, and we got a couple of great things out this storyline: an Emmy-worthy performance from Jones and not one, but two crazy-good performances from the girls of New Directions. "Cell Block Tango"? Delicious. A stripped-down version of "Shake It Out"? Inspiring. But leaving an abusive relationship isn't as simple as singing an empowering song, and we learned that Beiste went back to Cooter, even though she told Sue she had moved in with her sister. Fingers crossed she finds the good sense to get out before it gets worse.
Rewind Moment:
Kurt (Chris Colfer) dominating his NYADA audition with "Not the Boy Next Door."