Glee Recap: Who Was Crowned Prom King and Queen?
Wednesday, May 09, 2012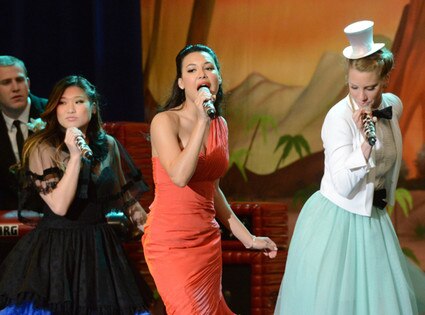 Can't the kids at McKinley High have a drama-free prom?
Nope! This prom was much like last year's; It had its sweet moments and catchy songs, but that couldn't stop the drama from coming out, and Finn almost got thrown out again. But by the end of the night, it was all about spending their last prom together. Plus, we got to see Blaine's true hair!
Rachel Is Down in the Dumps: On one hand, we know Rachel (Lea Michele) is feeling very sad about blowing her NYADA audition, but the whole "my future is ruined" spiel was a bit much, don't you think? With a voice like that, surely Rachel can find her way in New York City by some other means. After all, NYADA does not control the entire Broadway business, unless we missed that memo. Anyway, Rachel was pretty blue the whole episode, even going as far as throwing an anti-prom party after finding out Finn (Cory Monteith) was nominated for prom king without her being nominated as queen. And it got worse when he told her he was campaigning with his ex-girlfriend Quinn (Dianna Agron), as she was nominated for prom queen.
The pity and anti-prom party came to a screeching halt later in the episode when Finn brought her back to her friends at prom and, while dancing, insisted that she was special and amazing to him. And just like that, the fire was back in her eyes, and now we would bet money that Rachel will have a plan to win back her Broadway dreams come next episode.
Brittany Is Flunking All of Her Classes: No one is surprised by this fact, but it makes the idea of Brittany (Heather Morris) not graduating this year all the more real. She did, however, pull off a really cool prom theme, because who doesn't want to take photos while riding a dinosaur? Still, was putting together an awesome prom as class president enough for her to graduate?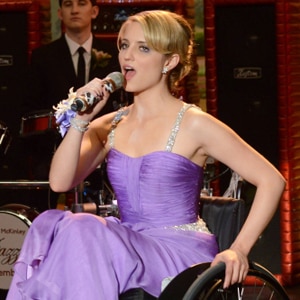 Quinn Can Walk!
It was revealed in the beginning of the episode that Quinn can stand and walk on her own, even if it's just for a couple seconds. Quinn is ready to premiere her triumph at prom, but first, she wants sympathy votes for prom queen. She milks her wheelchair to the point of manipulation with other people in the school, and when Finn finds out, he is disgusted. After walking in on her standing out of her wheelchair in the bathroom at prom, he makes a big scene in the middle of the dance floor demanding that she stand up and dance with him. Homeboy even gets a wee bit violent, which doesn't look good when the person you're getting handsy with is in a wheelchair. Finn is able to calm down enough to leave and bring his fiancé to prom, just in time for her to win prom queen via write-in. That's right, Quinn actually wins prom queen due to ballot votes, but after a heart-to-heart with Rachel in the hallway before counting the ballots, she decides to give Rachel the crown.
Puck and Becky Are Adorable: That's all. Wait, one more thing. We cannot even explain how happy we were to hear Helen Mirren again as Becky's (Lauren Potter) inner monologue voice. Puck (Mark Salling) and Becky were the cutest prom king and queen ever!
Rewind Moment:
Rick "The Stick" flipping over the table when finding out he was on the prom court.