Matthew Morrison and Jayma Mays Spill on Wemma's Future!
Thursday, May 03, 2012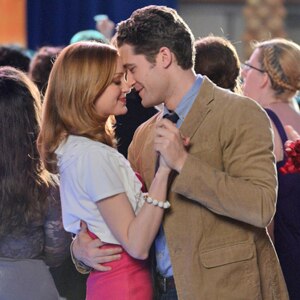 Out there in the blogosphere is a passionate fanbase devoted to Glee's Will and Emma, or Wemma—perhaps you've heard of them? Thought so.
Lucky for you Wemma fans, Matthew Morrison and Jayma Mays spilled to us all the secret details on the love that has been "three seasons in the making." Are you completely positive there won't be a surprise Wemma wedding this season? We've got some answers for you. Plus, there's something else that Morrison and Mays discussed with us that we're sure will make you burst into a rainbow of glitter and Lysol from sheer happiness in about three, two, one...
Babies!
If you can sit there and honestly say that you wouldn't want to see a curly-haired, big-eyed, dimpled-chin Wemma baby in the future, then we're not sure where your soul is. All we know is that you better find it fast because baby Schuester may soon be coming to a TV screen near you.
"That's like my dream for her for season four!" Mays gushed to us. "I think it would be really comical seeing her have this untidy messy creature in her clean world. I would just love to see that!"
Mays explains that having a baby could be a great way for Emma to push past her OCD tendencies. "Obviously she is just so nurturing and she would be a great mother, but I think dealing with all the other stuff that goes along with having a child I think would be wonderful."
For those of you who have had The Talk, you know that babies don't just magically appear via storks, they're made with a little love. So, naturally we asked if the Emma/virginity issue was going to be addressed again this season. Mays was coy teasing, "Hmm, I think it's possible."
Jayma blushed when we pressed for details revealing, "I think [fans should] just be aware that their relationship is really moving forward." Hmm, emphasis on the really? "Yes, on the really. I'm having to be so discrete with my answers lately." Fingers crossed it's because there is something big coming up for the star-crossed teachers of McKinley High!
As far as the wedding goes, Morrison told us with confidence, "
We're definitely not getting married this season.
" Aww shucks! Maybe the powers-that-be at Glee just need some more time to top that oh-so-perfect proposal. Mays also pointed out, "Well, this is going to be Emma's fourth or fifth wedding dress on the show so I feel like what else can we do?" Well, we're thinking something like Kate Middleton's dress, but with stain-resistant lace.
Hopefully this means a season four wedding would call for a mini New Directions reunion. "That would be just so cool!" Morrison agrees. "I think that would be one of those episodes that all the kids would come back for, so absolutely I hope that happens." We do too!