Naya Rivera Round Up
Thursday, May 17, 2012
Naya Rivera at the People En Español 50 Most Beautiful Gala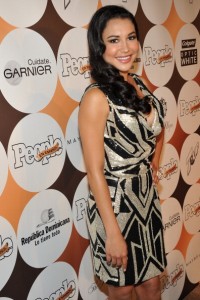 Interview
Gloria Estefan on Giving Santana Her Edge
In Tuesday's season finale of Glee, Latin superstar Gloria Estefan will make her debut as Santana's supportive mother just in time to watch her get a diploma. (Don't worry, gleeks, the queen of the insult monologue isn't going anywhere.) Estefan chatted with Vulture about what Mama Lopez thinks of Santana's taste in girls.
They announced you'd be guest-starring on Glee months ago, and fortunately you snuck in just in time for the finale.
We were waiting and waiting for the call, but I kind of like being in the season finale because it leaves you hanging. I hope I'm going to get to come back next season and sing.
Tell me about Santana's mom, Maribel.
She's a strong woman who at one point wanted to be a singer, but she wanted Santana to succeed, so she had put her life on hold to be a mom. Her husband's a doctor, so in my head, Maribel helped put him through school. Grandma, who's a real tough cookie, probably told her not to follow her singing dream because she was a young mom.
What did Santana get from her mom?
Sarcasm, although she's taken it to a whole other level, for sure. And her talent for music.
And what does Maribel think of her daughter's girlfriend?
She, Santana, and Brittany have dinner at Breadstix in the finale, and they're dishing and having fun. I don't think it's the first time she's met Brittany. Santana's mom thinks Brittany is hilarious, and also that she's got this wisdom underneath certain things she says. She just doles out these little pieces of truth sometimes … and sometimes she's completely off the charts. But Brittany is definitely loved. Santana's mom just wants her daughter to be happy.

Naya Rivera leaving her hotel in NYC
Naya Rivera leaving her hotel in NYC (5/15).
Glee's' Naya Rivera: Gloria Estefan Plays a 'Supportive' Mom
The Grammy winner guest stars during next week's Season 3 finale as Santana's mother.
During next week's Glee season finale, Gloria Estefan pops in to play Mrs. Lopez, the sweet mother to Naya Rivera's snippy Cheerio, Santana.
While it's unclear what brings Mama Lopez to McKinley -- it is the graduation episode, so that'd be our educated guess -- Rivera stressed that the relationship between mother and daughter is completely different than when her grandmother rejected the singing cheerleader after she came out to her during an April episode.
"She's very much the supportive mother -- and fun!" Rivera told The Hollywood Reporter on Monday at Fox's upfront party in New York."She was amazing to work with, very sweet and we had the best time."
Despite having Estefan in the house, Rivera says the Grammy winner won't get to sing anything but instead breaks bread with her on-screen daughter and her girlfriend, Brittany (Heather Morris) during a "cute" scene at Breadsticks, where Mrs. L is, you guessed it, a great parent. "She's very supportive of the relationship," Rivera says.
With cast members heading to New York and some staying put in Lima, Rivera reveals she doesn't have a preference in terms of where she'd like to see Santana go -- if the cheerleading scholarship Brittany so kindly helped to arrange doesn't pan out.
"Santana just wants to be a star; she definitely will be pursuing that," Rivera says. "The big question is, is the University of Louisville big enough for Santana? I don't have a preference as long as I'm still involved with the show, which I am, in any capacity."
Considering Brittany's graduation status is up in the air, and with Santana potentially heading out of state, could the dynamic couple be separated?
Rivera says Santana will continue to help Brittany do anything she wants and, regardless of what happens, promised a satisfying finale for "Brittana."
"It's not an ending, so I don't think there will be any issues with that," she says. "The last episode is very, very sweet."